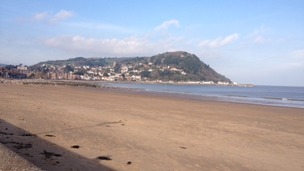 After a weekend of sunshine we've been inundated with pictures from viewers. You can send weather photos to westcountry@itv.com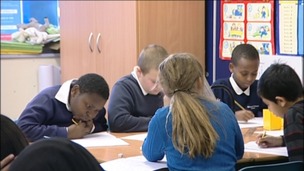 New figures from OFSTED claims more and more children in the south west are going to schools rated as 'good' or 'outstanding' schools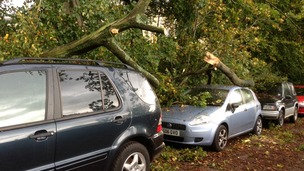 The St Jude storm hit the West Country overnight with winds as high as 75 mph.
Live updates
Clean up after storm
Train services to and from the West are expected to be badly hit because of the storm and damaging gales.
Bristol Temple Meads to London Paddington (Expected delay of 55 mins)
Cheltenham Spa to London Paddington (Expected delay of 38 mins)
Taunton (via Newbury) to London Paddington (Expected delay of 70 mins)
Full details here
Clean up after storm
First Great Western say there will be a requirement to run trains at reduced speeds for all or part of the journey and some routes will have a reduced train service.
We're expecting details from First on service alterations by 2200. We will post on this website as soon as we have them.
Advertisement
Clean up after storm
M48 suspension bridge (Severn crossing) has been closed to high-sided and other vulnerable vehicles during the day and has been closed to all traffic from 7pm on Sunday.
Authorities on both sides of the Severn have taken the decision to also close the second Severn Crossing from 3am on Monday.
Clean up after storm
All flights tonight are currently operating as normal in and out of Bristol Airport. Aer Lingus Regional has cancelled its 0800 services to Dublin tomorrow morning.
Clean up after storm
National
The Met Office has issued the timings of when the strongest winds will hit parts of southern Britain.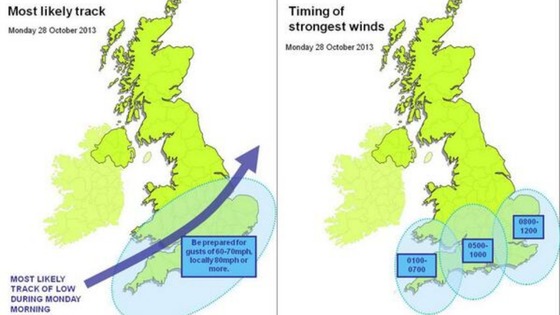 According to the Met Office, here are when areas will be affected on Monday:
1am to 7am: South west is thought to be most affected by winds
5am to 10am: South central area will be hit
8am to midday: South eastern parts of the UK will be hit
Clean up after storm
The Met Office says that the Bristol area is at risk from winds reaching 80mph between 2am and 6am tomorrow morning.
Advertisement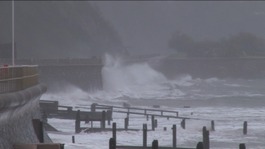 ITV West Country weather presenter, Alex Beresford on how to prepare for the storms
Read the full story
Clean up after storm
The biggest storm of the year is predicted to hit the region late this weekend, with winds gusting perhaps up to 80 miles per hour.
Jane Solomons reports.
Clean up after storm
West Country (W)
This video from the Met Office explains what we might be able to expect as they warn of stormy weather over the weekend and into next week:
Chancellor's visit to the West
The Chancellor George Osborne has been in the region today, talking up the economy. He's been in Avonmouth and Gloucester.
Yesterday he was insistent that the economy had turned a corner - but unemployment is on the up in the west. Ken Goodwin reports.
Load more updates
Back to top