A fire has broken out in a building used for packaging at the Apetito factory in Trowbridge.
People near the Canal Road Industrial Estate in Trowbridge have been advised to keep their doors and windows closed because of acrid black smoke.
It started just before 2pm. 40 firefighters, two aerial appliances, an incident command vehicle and a water carrier were all called to the scene.
The fire service says the Apetito site has been safely evacuated and no injuries have been reported. Neighbouring businesses, including Airsprung, are also being evacuated by Wiltshire Police as a precaution.
People with an existing respiratory condition should seek medical advice if they have a specific concern.
Soldiers have been marching through Trowbridge this morning marking their Freedom of the town.
72 soldiers from 14 Regiment Royal Artillery, based at Larkhill have taken part in the event on Armed Forces Day.
A day to recognise our servicemen across the country.
They've been joined by a band and a section of the King's Troops Royal Horse Artillery.
Advertisement
There is congestion on the A361 Holwell Hill at Nunney, Somerset, due to an accident. It happened on the roundabout with Green Pits Lane.
Westgate Street in Gloucester remains closed to motorists because of a collapsed sewer near the Gloucester Folk Museum. Pedestrian access is unaffected.
Shails Lane (B3106) in Trowbridge, Wiltshire, remains closed after yesterday's scrap yard fire.
Two fire crews are still on the scene of the scrapyard fire in Trowbridge which broke out on Saturday.
The fire is still smouldering and crews are turning over the debris and damping down.
A meeting is taking place between the Fire Service, the Environment Agency and the local council to discuss what further action may be needed.
The road outside Shanley's Scrap Yard remains closed for the time being.
Advertisement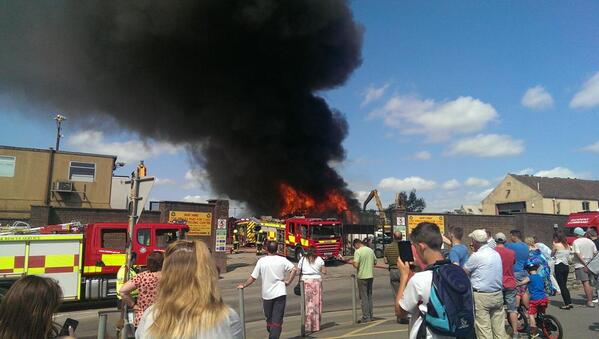 Shanleys update - road immediately outside still closed, one crew on site, fire reduced & contained but still some smoke rising. 1/2
Site inspection due later this morning & discussions held with owners and @wiltscouncil over next steps. 2/2
We anticipate remaining at the Shanleys site in #Trowbridge well into tomorrow - our attendance has been reduced & fire is under control.
Wiltshire fire and rescue service say they expet to remain at the scrapyard fire in Trowbridge until Sunday. As of 6pm Saturday evening there are three fire engines from Royal Wootton Bassett, Malmesbury and Devizes dealing with the fire at Shanleys Scrap Yard.
The fire has reduced substantially, however we anticipate being in attendance into Sunday.
Load more updates