Vauxhall has apologised to customers for a car fault which has led to hundreds of fires across the country.
Read the full story ›
A Wiltshire man has won £4 million on a lottery scratch card. He says he knew immediately and went into work 'screaming and dancing inside'
Read the full story ›
Advertisement
We've been speaking to recovering boxer Nick Blackwell at his home in Trowbridge. He says he probably shouldn't have ever entered the fight.
Read the full story ›
Trowbridge boxer Nick Blackwell has revealed that his heart stopped before he was put into an induced coma which ultimately saved his life.
Blackwell flatlined in an ambulance after the British Middleweight bout in March which left him fighting for his life.
The fight was stopped in the 10th round, and the boxer taken to an ambulance where he collapsed and "died".
Blackwell, who can remember nothing of the fight or his subsequent injury, was saved when a doctor injected adrenaline into his heart, and placed him into a coma.
The boxer says he was only told of the horrors after waking up.
I passed out, into the ambulance, and I flatlined, so I died for a little while.
– Nick Blackwell
The 25 year-old was also critical of his opponent, Chris Eubank Junior, for holding a press conference in the immediate aftermath - despite pleas from Blackwell's family not to.
Trowbridge boxer Nick Blackwell has slammed the Eubank family for giving a press conference as he was in a coma after the fight.
Read the full story ›
The mother of a little girl with a rare condition is calling on people to be more accepting of people with facial disfigurements.
Read the full story ›
Advertisement
Nick Blackwell says the outpouring of love from the boxing community made him 'emotional' while on the road to recovery.
Read the full story ›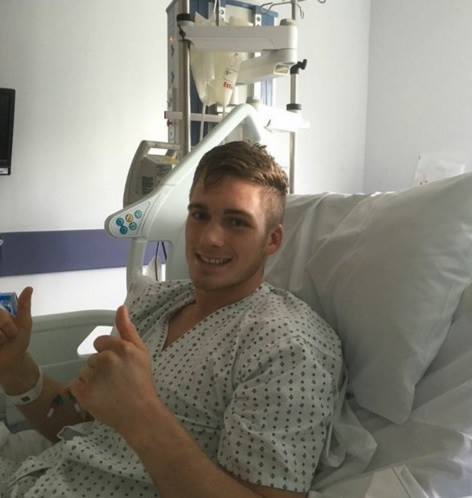 Trowbridge boxer Nick Blackwell looks to be recovering well after waking from his induced coma.
He received a visit from one of his sponsors, who tweeted this picture of Blackwell giving the thumbs up from his hospital bed.
The 25-year-old was rushed to hospital last month after the British middleweight title contest with Chris Eubank Jr was stopped in round 10.
Boxer Nick Blackwell has been woken from his induced coma and is talking to family and friends, his management says.
Nick had been placed in the induced coma following a British middleweight title contest last weekend.
After examination doctors discovered, contrary to early reports, his bleed was on his skull, not his brain and was small enough to not need an operation.
He was in an induced coma for almost seven days, at St Mary's Hospital in London, where his sedatives were gradually reduced over time.
Finally, at the weekend, Nick woke from the coma, acknowledged the voices of loved ones and, by Sunday, was starting to talk.
On behalf of Nick, his family, and very close friends, we'd like to thank everyone for their continued support and well-wishes. It has been overwhelming at times and has certainly not gone unnoticed.
– Hennessy Sports
Trowbridge boxer Nick Blackwell has been placed in an induced coma after suffering bleeding to the brain following his defeat.
Read the full story ›
Load more updates