Two fire crews are still on the scene of the scrapyard fire in Trowbridge which broke out on Saturday.
The fire is still smouldering and crews are turning over the debris and damping down.
A meeting is taking place between the Fire Service, the Environment Agency and the local council to discuss what further action may be needed.
The road outside Shanley's Scrap Yard remains closed for the time being.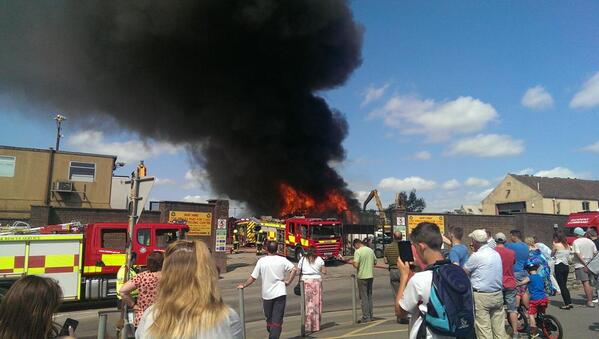 Advertisement
Shanleys update - road immediately outside still closed, one crew on site, fire reduced & contained but still some smoke rising. 1/2
Site inspection due later this morning & discussions held with owners and @wiltscouncil over next steps. 2/2
We anticipate remaining at the Shanleys site in #Trowbridge well into tomorrow - our attendance has been reduced & fire is under control.
Wiltshire fire and rescue service say they expet to remain at the scrapyard fire in Trowbridge until Sunday. As of 6pm Saturday evening there are three fire engines from Royal Wootton Bassett, Malmesbury and Devizes dealing with the fire at Shanleys Scrap Yard.
The fire has reduced substantially, however we anticipate being in attendance into Sunday.
Elsewhere in Wiltshire, fire fighters were forced to suspend a planned strike after a fire at a scrapyard Trowbridge.
Tonnes of metal caught fire at E.J Shanley's in the Town. The planned walk out by the Fire Brigades Union at 10am was put on hold to allow crews to tackle the blaze.
Advertisement
Fire crews are attending a large fire at a scrapyard in Trowbridge on the day members of the Fire Brigades Union go on strike again. However, as the fire began before the planned start of the strike at 10am resources were unaffected with 6 crews attending.
A £2000 reward is being offered for the recovery of a bronze statue of Christ which was stolen from a Wiltshire village's First World War Memorial.
The statue, which is worth around ten thousand pounds, was taken overnight on February 28th from the wooden memorial at a crossroads in Wingfield.
Forces War Records, which helps people find out about ancestors who fought in the war, have offered half of the reward for information leading to the recovery of the statue. Wingfield Chiropractic Clinic is offering the other half of the reward.
Anyone with information relating to the theft can call Wiltshire Police on 101.
Thieves have targeted a war memorial in Wiltshire, stealing a 100-year-old statue of Jesus.
The bronze figure is thought to have been taken from a crossroads near Trowbridge in the middle of the night. Today one resident told us 'the heart had been torn from the community'.
Load more updates