People in the Westbury area of Wiltshire could be without a water supply for most of the morning after a water main burst last night.
Wessex Water Engineers have been working throughout the night to fix the damaged pipe.
The company says it is arranging for bottled water to be available in two central locations in the Westbury area.
While we were able to temporarily restore water supply during the night, due to demand first thing this morning we were unable to maintain supplies for all customers. We apologise to customers in the area and thank everyone for their patience.
– Ashlea Lane, Wessex Water
Any customer that requires water for medical purposes should call Wessex Water on 0345 600 4 600.
The water supply to thousands of Bristol homes has been restored after a burst water main in Willsbridge cut off services for many on Wednesday.
Bristol Water has called the incident "one of the biggest" in its history. 35,000 homes across Keynsham, Hanham and Whitchurch were without water and bowsers were brought in to supply residents with drinking water.
Five schools remain closed in Keynsham on Thursday, not confident enough in their water tank's ability to cope. Bristol Water is advising people to run their taps for a short time as the water may be discoloured, which is normal according to the utility company.
Advertisement
Around 35,000 home and businesses on the outskirts of Bristol are without water after a "catastrophic failure of a water main".
Read the full story ›
Ashton Way Car Park - Keynsham
Waitrose - Keynsham
A third bowser is said to be on its way.
Bristol Water is asking people to take a clean container for filling if possible, and to report any concerns about vulnerable neighbours.
If you are a vulnerable customer or concerned about a friend/relative/neighbour please call Customer Services on 0345 702 3797 for support.
If your water comes back on and is discoloured then Bristol Water advises running the tap for a minute or two until it runs clear.
Schools are closed as a burst water main leaves thousands of homes without water across Bristol.
Read the full story ›
Bradham Lane is closed in both directions due to burst water main between St John's Road and the B3178 (Salterton Road).
The road is likely to remain closed for some time, and traffic is being diverted via Marpool Hill, Hulham Road and Pound Lane.
The Stagecoach 57 bus service is affected.
Advertisement
Some residents in the Redland area of Bristol are without water after a burst main.
Bristol Water has a crew working to fix the issue on Clarendon Road. At the moment it's not clear how many households are being affected.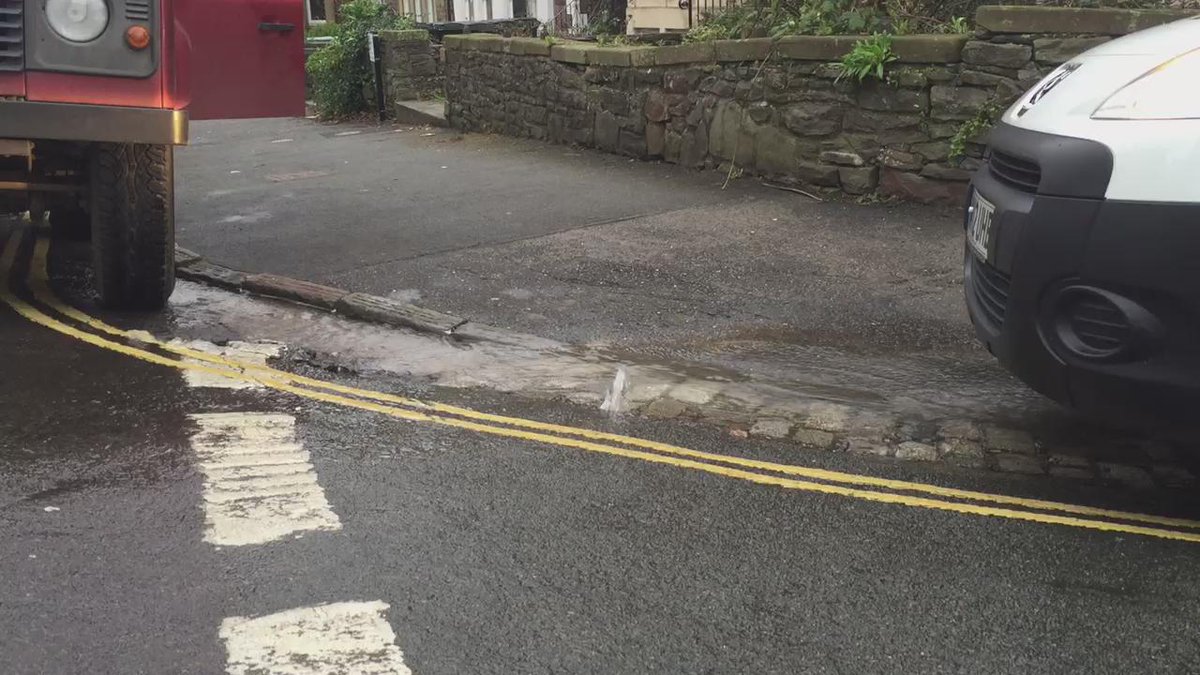 Discoloured water in PL24, PL25 and PL30 that has been caused by a burst main please see http://t.co/IjTsfJgpPR or further information.
A burst water main is affecting water services in parts of Cornwall, leading to some cases of water discolouration.
Posting on their website, South West Water said they are carrying urgent repair work and apologised for any inconvenience caused.
If your water is discoloured this can be cleared by running from the cold kitchen tap.
– South West Water
A flash mob has gathered on the Harbourside in Bristol to try and get people to drink more tap water rather than bottled water.
It was organised by 'Refill Bristol' which is a city-wide campaign to promote drinking water, supplied from local reservoirs and provided free by local businesses, cafes, bars and restaurants direct from the tap.
The campaign has come about as part of Bristol's City To Sea initiative which has brought together local environmental experts, marine campaigners and the public who are keen for Bristol as European Green Capital to take action on the marine litter problem, which is receiving increasing coverage nationally and internationally.
We're fortunate to have high quality tap water here in Bristol and we hope Refill Bristol will help Bristolians fall back in love with it - by popping into one of Bristol's excellent cafes and bars and staying hydrated for free!

It's a win-win, saving consumers money whilst helping reduce the amount of plastic bottles we see all over our local riverbanks!
– Natalie Fee, founder of City to Sea
Residents on the Isles of Scilly have been told they face a 45 million pound bill to upgrade their water and sewerage system - to bring them in line with European standards.
Leading councillors on the islands warned today about the impact on tourism - and said water bills could soar - unless alternative funding can be found.
The local council has written to every household on the islands about the proposals.
Load more updates