Daybreak Chief Correspondent Richard Gaisford tweeted from Bristol: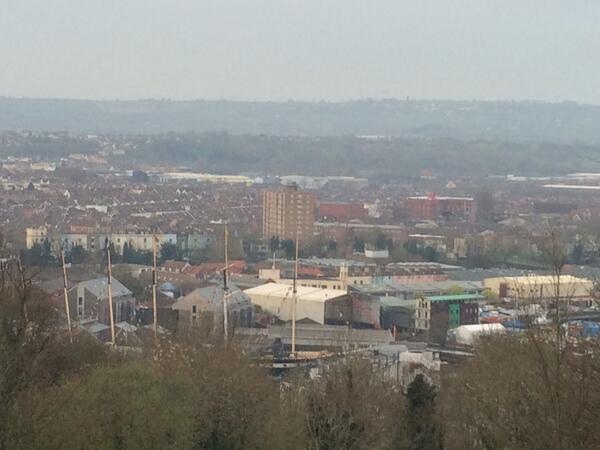 Government experts have warned the Midlands and eastern England are set to experience "very high" levels of air pollution over the next couple of days.
Advertisement
Desert dust and sand from the Sahara is due to sweep across the West Country tomorrow, thanks to a continental air flow which has travelled all the way from Africa.
Government health bosses are warning people in our region, should be prepared for "very high" levels of pollution over the next few days.
It comes after a number of reports from people that their cars were covered in a light coating of red dust.
High pollution warnings are expected to be in place across the region tomorrow and Thursday, but should start to fall by Friday.
Beef and lamb produced in the West Country has been awarded protected food status by the European Commission.
It puts the meat alongside Cornish Pasties as a product that can only be given a west country label IF it's born and reared in the region. Bob Cruwys has been to meet a fifth-generation family farmer in Somerset who helped secure the award.
Farming minister George Eustice says that given certain foods protected status helps farmers to market them.
West Country lamb and beef has been given protected food name status. The European Union status helps to safeguard specialist products from across the UK.
West Country lamb and beef has been given protected food name status. The European Union status helps to safeguard specialist products from across the UK.
It'll join the ranks of some of the UK's favourite foods such as Stilton Cheese and Melton Mowbray Pork Pies. More than 60 foods now have the status.
Advertisement
Protected food products in the UK contribute an estimated £900 million to the European economy, and the government is keen to encourage more food producers across the UK to apply for the special status. Farming Minister George Eustice said:
Exceeding the 60th registration is an achievement to be proud of. Legal protection of the quality, provenance and reputation of British food will help small businesses make a valuable economic contribution both locally and nationally.

We now want to help many more UK food producers who are thinking about making an application for protected name status to get their quality produce fully recognised.
Families across the West Country who care for loved ones at home are missing out on millions in benefits according to new research.
The study by Carers UK found that many are facing financial hardship as living costs rise.
They found some families felt there was a lack of support from the benefits system.
There's a cautious welcome in the West Country to the first designation of marine conservation zones around our coast. They're intended to protect senstive underwater habitats.
But while conservationists say they're pleased the Government is taking action, they'll maintain pressure to ensure more areas are protected.
Our Environment correspondent Duncan Sleightholme reports.
Some of the part-time soldiers in the South West have begun training to learn how to fire live ammunition from tanks on ranges in Dorset.
The Royal Wessex Yeomanry has bases in the county as well as in Gloucestershire and Wiltshire - and is the only part-time regiment using the Army's main battle tank.
Our correspondent Duncan Sleightholme reports on what these changes could mean for them.
Load more updates