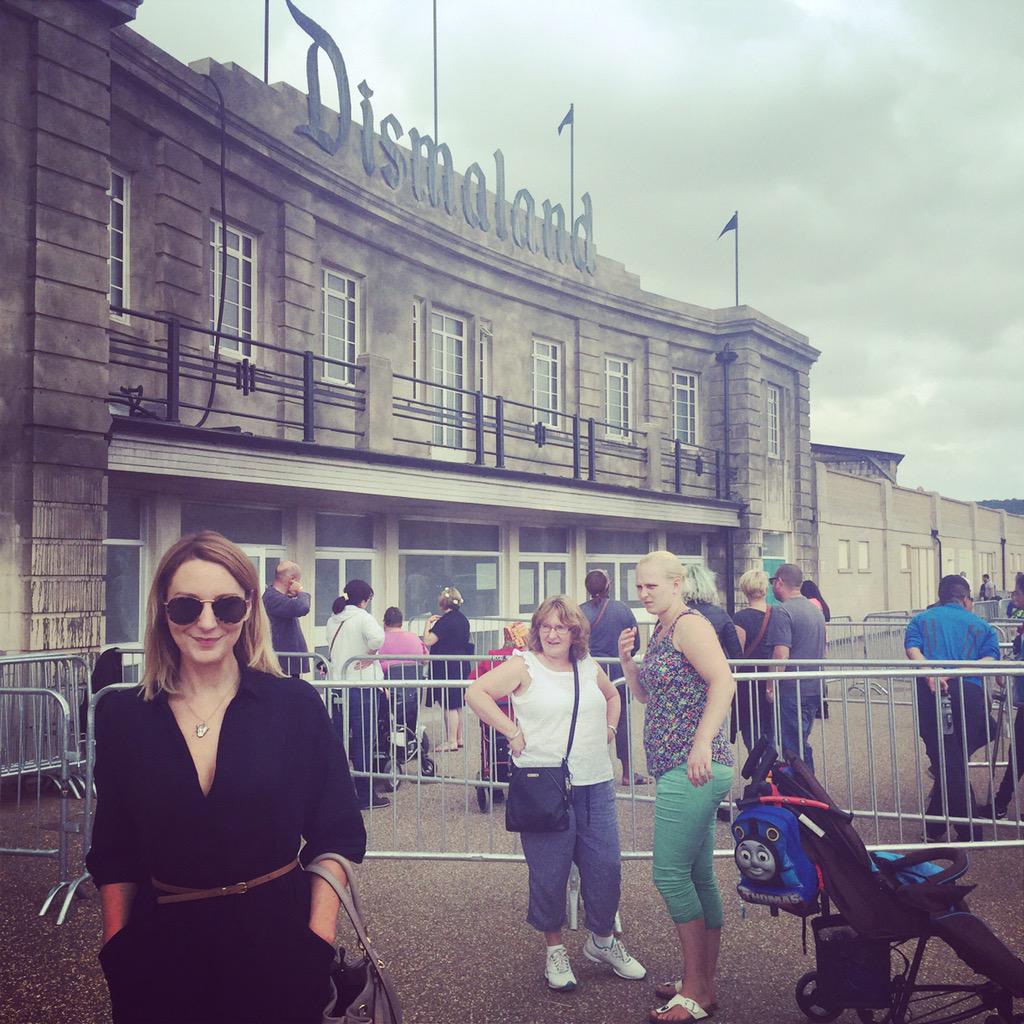 Hundreds of people have begun queuing for tickets for Banksy's Dismaland.
Thousands were left disappointed yesterday after the website's ticket selling site went down after 'unprecedented demand'. Tickets for this weekend are now only available to buy on the door.
Yesterday a thousand local people were given free entry.
General tickets are due to go on sale online again on Tuesday.
Advertisement
Dismaland have apologised after people could not get tickets online. On their website they say "due to unprecedented demand" they are unable to process online tickets. Tickets for this weekend will only be able to be bought from the door (a portacabin on the grass opposite the site).
Earlier today there had been speculation that the ticket section of the Dismal-land website was a hoax.
The Dismaland website says that people can buy tickets online for the exhibit from Tuesday.
Thousands of people from Weston super Mare queued for hours today to get some of the hottest tickets in the country - tickets to see the hugely anticipated Dismaland exhibition in the derelict Tropicana in the seaside town.
The event itself doesn't open to the general public until tomorrow - when even bigger queues are expected. There is currently a lot of controversy about the Dismaland website, which is having an unprecedented number of hits from people desperate to get a ticket.
There are even rumours the website itself could be fake and all part of the "dismal" experience - but this is only a rumour at this stage.
The latest footage from the Banksy exhibition...a must watch, but it will make dismal viewing - ha ha ha....
ITV News West Country can reveal Banksy didn't pay a penny to North Somerset Council to rent the Tropicana for his Dismaland exhibition...
The answer to your question "How much is Banksy paying to rent the space from us?" is…..nothing.
– North Somerset Council
Advertisement
Rumours have surfaced on social media that you can't actually purchase tickets for Dismaland from the website - it's another hoax.
Read the full story ›
Millions of hopeful art fans received error messages under the weight of online interest in the graffiti artist's Dismaland Bemusement Park.
Read the full story ›
According to the Weston Seafront twitter account, tickets for the brand new Banksy exhibition will be on sale online at 12pm.
Tickets will go on sale for the next 10 days but the theme park will be open for five weeks from 22nd August to 27th September 2015 - 11am to 11pm.
Capacity at Tropicana, the venue for the exhibition, is limited and visitors have been advised to book a time slot on the website for guaranteed entry.
Load more updates