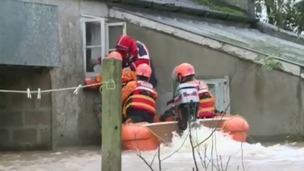 Rescuers heard about Anne-Marie's plight through ITV West Country, and arrived at her house on the Somerset Levels yesterday.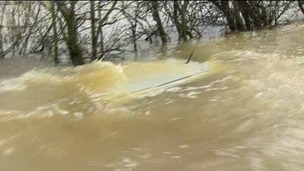 More than one hundred residents are trapped in their village after floods left all access roads under three feet of water.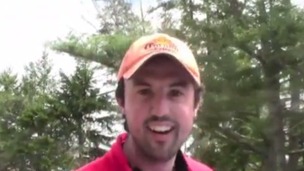 Jamie McDonald from Gloucester who's running unaided across Canada says he's on his feet again after being beaten up on New Year's Eve.
Live updates
Who can forget the success of the Gromits in Bristol last summer? Well this year we'll have dragons on the streets of Taunton - and lighthouses in Burnham-on Sea.
There will be 32 miniature lighthouses dotted around Burnham and like the Gromits, it's hoped the trail will attract visitors and raise money for a local charity. Katie Rowlett has been to see some of the designs.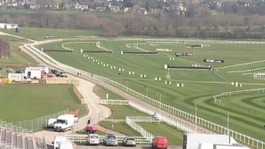 The sun was out at Cheltenham today as the final preparations were made for the start of the festival on Tuesday
Read the full story
Advertisement
A Government investigation is underway into the running of a school in Bath following serious concerns over its leadership and governance.
They were raised in a draft report by OFSTED following an inspection of Oldfield School.
Only a limited version has been officially published so far, but ITV News has seen a leaked copy of the full report. Tonight there are growing calls for it to be made public.
Our Education Correspondent Richard Payne reports.
A family had to be rescued after their car got stuck on Brean Beach in Somerset.
It's led to search and rescue crews warning people of the dangers of driving across soft sand and mud. Ellie Barker has the details.
Artillery shell lands off course
The army has suspended all live firing on Salisbury Plain after an artillery shell landed five miles in the wrong direction.
The round flew past two Wiltshire villages, and exploded on farm land just three hundred metres from the railway line near Devizes. Our Wiltshire Correspondent Robert Murphy reports.
Campaigners demand dredging after rainfall results
Campaigners demanding long term dredging of the rivers on the Somerset levels say new rainfall figures prove their case.
A detailed breakdown of the winter's rainfall obtained by ITV News shows that just 2 inches more rain fell this year than the previous record year in 1995. That year there was far less flooding.
Campaigners say that's because back then the rivers had undergone some dredging. Here's our Somerset correspondent David Woodland.
Advertisement
Cheltenham Festival 2014
A £45 million redevelopment of the spectator areas of Cheltenham racecourse will begin just ten days after this years festival.
Our sports corespondent Matthias Kurth spoke to managing director Ian Renton about the revamp:
Alex Beresford has the latest forecast for the region:
Campaigners demand dredging after rainfall results
Despite the dry weather over the weekend, pumps are still working to clear the excess water covering large parts of the Somerset Levels.
Campaigners demanding long term dredging of the rivers on the Somerset levels say this winter's rainfall was not exceptional and proves that a lack of dredging is the main cause of the exceptional floods.
Artillery shell lands off course
An investigation has been launched after an artillery round flew off course at army firing ranges in Wiltshire.
The round landed at Patney near Devizes approximately 5 miles from where it was originally launched.
It flew over two villages and exploded after landing in a farmer's field, leaving a hole around 6 feet in diameter and 2 feet deep.
We can confirm that during live firing on Salisbury Plain Training Area last week an artillery shell landed outside the range boundary. No one was injured and no property was damaged but all live firing has been suspended while this is investigated.**
– Army spokesman
Load more updates