A candlelit vigil has been held in Truro tonight as part of Domestic Violence Awareness Week. The service at Truro Cathedral invited people to remember all those in the UK who have lost their lives because of domestic abuse.
The projects going head-tohead in tonight's vote are Freedom 2 and Scoot-a-Boat.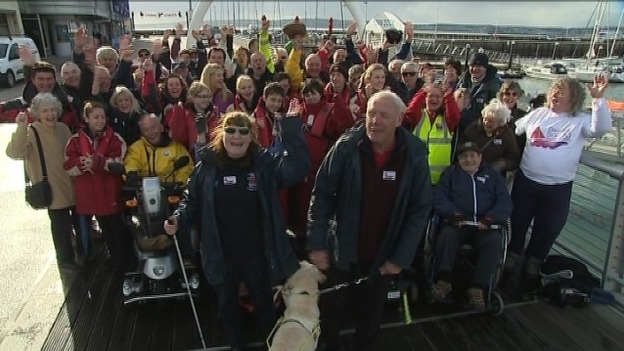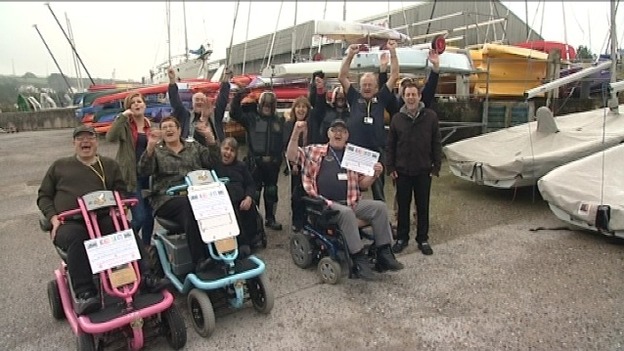 Here's your chance to vote for the project you'd like to see get the money. To vote from a landline call 09015 228206 or from mobiles ONLY call 6228206 and press option 1 for Freedom 2 or press option 2 for Scoot-a-Boat.
Mobile and BT landline votes cost 15p. Other landlines may vary. Lines close at midnight tonight. PLEASE DO NOT TRY TO VOTE IF YOU ARE WATCHING ON DEMAND.
For terms and conditions see here
Advertisement
A man who paddled out to sea as the sun set spent six hours clinging to his board before being rescued by lifeboats in Cornwall.
Joe Holtaway left his clothes and bicycle on the beach at Marazion before heading into the water as it was a "beautiful evening".
He entered the sea with his paddleboard at around 6pm, but drifted so far out he could not return to the shore.
Mr Holtaway's family reported him missing at 8pm and a search operation was launched.
Police were also called by a local woman after she noticed a bike and clothing left on the shore.
Coastguards initially scoured the scene, along with a RNLI Penlee lifeboat and helicopter, but Mr Holtaway could not be found.
Three hours later, at 11pm, the RNLI Penlee lifeboat found Mr Holtaway a mile south of Marazion beach.
He was taken to Newlyn harbour by the lifeboat then conveyed to hospital by ambulance and treated for hypothermia before being released.
In a message posted on the RNLI Penlee Facebook page, Mr Holtaway wrote: "It was a beautiful evening in Marazion, I paddled out on my board in the sunset and drifted further/got colder than I could get myself back to shore from.
"Six hours later the lifeboat took me onboard, and brought me in. Much love, respect and admiration for everyone who was on the beach, the emergency services, my friends and family (all are family.x)."
Mr Holtaway later uploaded a picture of himself drinking tea in a mug at home to his personal Facebook page.
His brother, Ben Holtaway posted: "Joe has been found alive, spent 5 hours at sea but now ok in hospital. Thank you to the Penlee Crew for finding him. Superstars."
All beds at Torrington Hospital in Devon will permanently close, despite protests from people in the town.
A unanimous vote has ended months of uncertainty surrounding the future of the 10 overnight beds.
Patients will now be treated in their homes.
Advertisement
A young man who paddled out to sea on his board at Marazion says he's "feeling a bit worse for wear" after being rescued after more than six hours in the water.
Joe Holtaway was unable to get back to shore last night and was reported missing by his family at around 8pm.
A coastguard team from Porthleven was brought in, and following a three hour search, the Penlee Lifeboat found Joe a mile south of Marazion beach.
He was taken to Newlyn harbour by the lifeboat, and then taken to the Royal Cornwall Hospital in Truro by ambulance suffering from hypothermia.
He's now recovering at his parents' house. He had this to say on his Facebook page:
Police are looking for a man from Torquay who is wanted for recall to prison after breaching his prison licence conditions.
Gary Ward who is 32 was convicted of causing death by dangerous driving,
He is believed to be in the Exeter area and also has links to Torbay and Ilfracombe.
Officers say people should not approach him but ring 101 quoting police reference EN/148763/14.
Lines are now open for day three of voting in The People's Millions competition. Today in the West Country Freedom 2 goes head to head with Scoot-a-Boat.
A grant of up to £50,000 is up for grabs for the winner. The other project is still in with a chance of winning National Lottery cash if it gets the highest number of runner-up votes.
Details of how to vote here for terms see here
The People's Millions is a long-running collaboration between ITV and the Big Lottery Fund. We want to help projects that capture the public's imagination, inspire local people to get involved and to make a lasting difference to those in their area through improvements to the neighbourhood.
Load more updates
Back to top