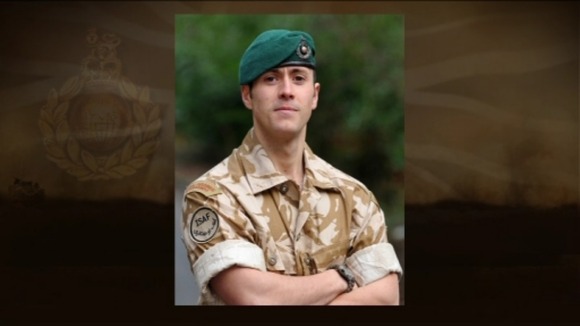 The inquest is taking place in Exeter today of Cpl. Stephen Curley who was killed in an explosion in Afghanistan in May 2010. The 26-year-old from Exeter was serving with 40 Commando on his third tour of duty in Helmand Province when he was caught in the blast from an improvised explosive device. He was on a routine patrol to provide security and reassurance for local people in the green zone near his base at Sangin.
He leaves a wife, Kirianne, and young son William, who was only five months old at the time of his death.
Stevie was my purpose, what makes me tick. A man of few but powerful words when it mattered, he lived by the motto 'If you're not living life on the edge, you're taking up too much room'. Stevie was a perfectionist - he prided himself on being the best and the best he was.
– Kirianne Curley

Cpl. Curley joined 40 Commando after gaining his green beret at Lympstone in 2004. He moved to Four Two Commando and completed his second deployment to Afghanistan with them in 2006 when he's credited with saving a colleague's life. He was promoted to Corporal in 2009 and then completed the very tough mountain leaders' course before rejoined 40 Commnado in 2009. He became an instructor in advanced urban combat before going to Afghanistan for the third time in March 2010.
Corporal Stephen Curley was the very best of his generation; bright, fit, charismatic and supremely brave, he was a man who genuinely inspired others. He was a brilliant Section Commander who cared passionately for his men.
– Lieutenant Colonel Paul James, Commanding Officer, 40 Commando

The inquest is due to take place at County Hall, Exeter, at 2pm this afternoon (Thursday 8th March 2012).

Ahead of the inquest, Kirianne said it had been an emotional journey.

There are many more tributes to Cpl Curley on the Ministry of Defence website at http://www.mod.uk/DefenceInternet/DefenceNews/MilitaryOperations/CorporalStephenPaulCurleyKilledInAfghanistan.htm

Our reporter John Andrews will be at the inquest.