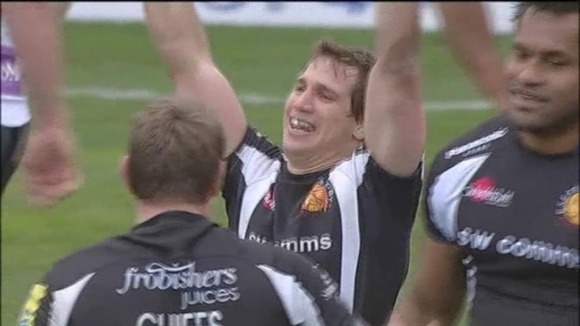 Gonzalo Camacho knows all about winning the Amlin Challenge Cup. His late try in last season's final clinched the tournament for Harlequins against Stade Francais. So the French side might not be best pleased to see him again when his current team Exeter Chiefs visit in Thursday's quarter final.
It was very special I scored a try and as well I was against a lot of my friends, a lot of Argentinians play for Stade Francais so it was quite good and afterwards you can give them a little banter so it's pretty special
– Gonzalo Camacho, Exeter Chiefs

Gonzalo Camacho is 27 years old and plays on the wing. As an Argentinian international he's scored 4 tries in 11 appearances which includes 4 games at last year's World Cup. That delayed his arrival to Devon but he's now played 14 games for Exeter scoring his first try for the club in Saturday's win over London Irish. Ahead of the big game Gonzalo's been able to take some time out to visit the Calvert Trust in North Devon to discover how disability is no barrier to sport and adventure activities.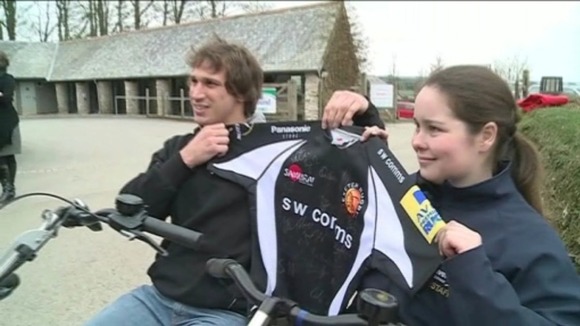 It's been great for us to have him here and share with him the work that we do and he's very supportive and obviously very enthusiastic about it so I hope he'll come back when our new building's open and we can show him that as well
– Tm Harris, Calvert Trust

The thought of lifting the trophy will have to wait for now but regardless of Thursday's result Exeter have become one of England's top rugby teams.
For the club that had been in some very hard years before and now come to the Premiership and stay up in the first year and the second year to be part of the Amlin Challenge Cup and be in the quarter finals I think that is like a dream come true
– Gonzalo Camacho, Exeter Chiefs

If Exeter can win on Thursday then Gonzalo will be a step closer to having something more than a club shirt to show the charity. Watch the full report from Seth Conway: