This is the first glimpse of a futuristic laser display that's being installed along Weymouth's historic seafront ahead of the Olympics. It was tested for the first time on Wednesday 4th April. Seven lasers will create a web of light stretching out across the bay. The project's costing nearly half a million pounds and is part of a major regeneration scheme of the seafront.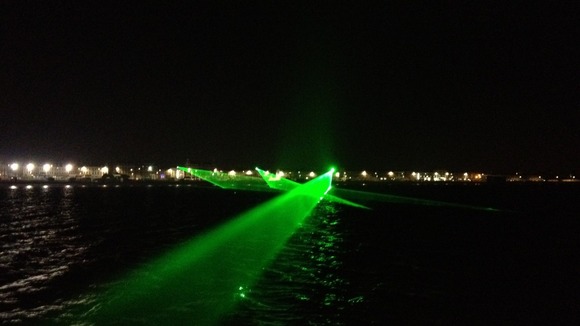 This is all about helping to re-profile Weymouth, to keep its traditions but also to reprofile it and to showcase the best that we have to offer, particularly with all of the international media focusing on Weymouth and Portland during the Olympic Games time in the summer
– Simon Williams, Head of 2012 operations for Weymouth and Portland Borough Council

It's called 'Light Veils' and has been funded by the Arts Council and South West Regional Development Agency. It's thought to be unique in the world. The artists, Vong Phaophanit and Claire Oboussier say they hope to create a 'resonant and significant' impact.
It's really great to see it finally coming to life. It's not your traditional laser show, it's not a disco. We conceived it to be something very peaceful, ethereal and contemplative and what we hope is that particularly for people who live here there'll be a sense they can discover the work throughout the year in different climatic conditions and different light conditions
– Claire Oboussier, Laser display artist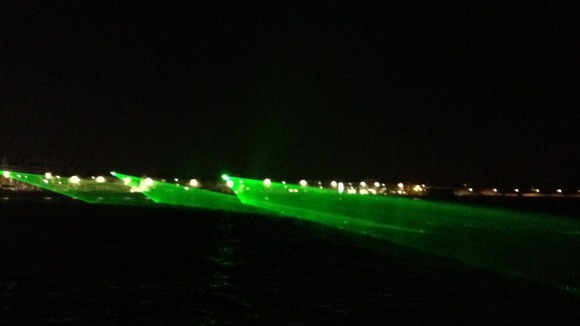 They also say it'll be very different from the disco laser displays of the past. The lasers circle the sweeping seafront and create a veil of light across the sea. Different patterns will play for six minutes every six minutes once it goes dark. The display is permanent and will run throughout the year. Watch the full report from Duncan Sleightholme: