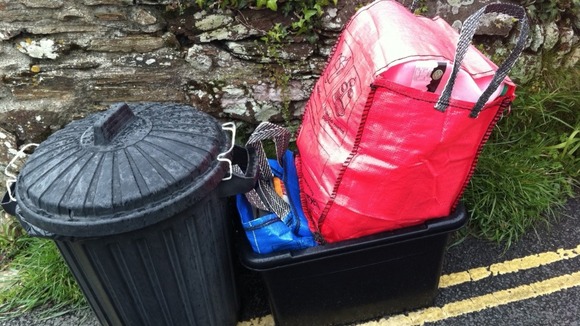 People living in Looe say their rubbish is still not being collected properly. It follows problems across the county after Cornwall Council awarded a new waste contract to Cory Environmental. In Looe a number of streets in the town centre still had bin bags left uncollected during Monday's round. Whilst some have received new recycling bags and boxes, many hadn't been emptied.
Looe Resident Jo Hawes told The West Country Tonight:
This is the fourth week that they should have been collected the rubbish, they did collect last week but they haven't collected this week. We've had no collections of recycling at all.
– Jo Hawes, Looe Resident

In a statement Cornwall Council said 98.5% of waste was being collected. It said it and Cory Environmental apologised again to people in Cornwall for the problems being experienced with rubbish and recycling collections in some areas, and reaffirmed their commitment to working together to improve the service as quickly as possible.

Councillor Julian German said while the vast majority of collections were being successfully completed by Cory, the current level of missed collections was unacceptable.
This has been a massive change affecting every single household in Cornwall. While we had anticipated that there would be some initial teething problems, it is clear that the implementation of the new contract in some parts of Cornwall has not been satisfactory and we are taking this up with the contractor so that problems are resolved quickly.
– Councillor Julian German

Nigel Carr, the General Manager for Cory Environmental said:
We apologise to any resident who has had a missed collection or experienced disruption to the service during this major change. We have brought in additional vehicles and staff to help deal with missed collections and deliver the remaining recycling containers.
– Nigel Carr, General Manager for Cory Environmental