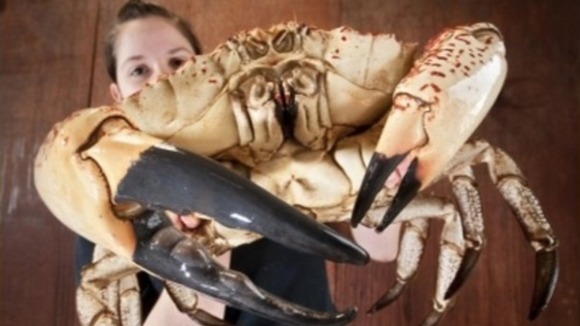 'Claude' the crab is one of three rescued from the pot after being spotted by someone working for the Weymouth Sea Life Park. It 'shelled out' £3,000 each, including shipment, for them.
They're such impressive creatures we thought it was worth the cost and effort of flying them half-way round the world to see if they can flourish in an aquarium display. It took them a few days to get over the jet-lag but now they're feeding happily and don't seem any the worse of their trip."
– Rob Hicks, Head marine biologist, Sea Life

Tasmanian king crabs are seen as a delicacy down under. One crab can provide more than 20 pounds of meat. 'Claude' and his friends were fished from the deep waters off Southern Australia and were destined for market when they were saved. Now 'Claude' is bound for the centre's 'Treasures of the Deep ' exhibition.

He's due to move in on Thursday but will only be on public display until the end of the month. The Sea Life Park has prepared one of its biggest display tanks to welcome him.