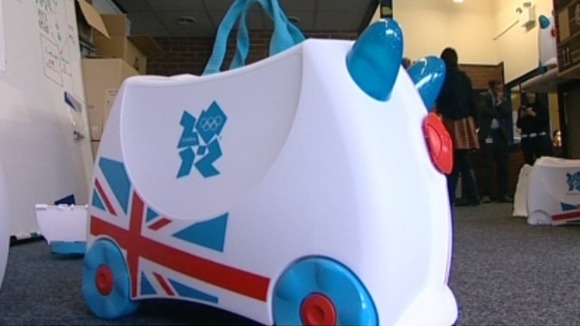 Fresh out of the mould on Wednesday morning the first sections of the Trunki children's suitcases were coming off the Devon production line at one every 45 seconds. How fitting for a return to manufacturing in the UK from China that it should be a London Olympic branded product.
It's been a long held dream of mine to make things back here, when we first set up that wasn't possible at all it was just far too expensive but a couple of big business things have changed recently. The devaluation of our Sterling currency against the US dollar, the cost of labour in China keeps going up and about twelve months ago I looked to see if it was possible to make our Trunki back in the UK again.
– Rob Law, Creator, Trunki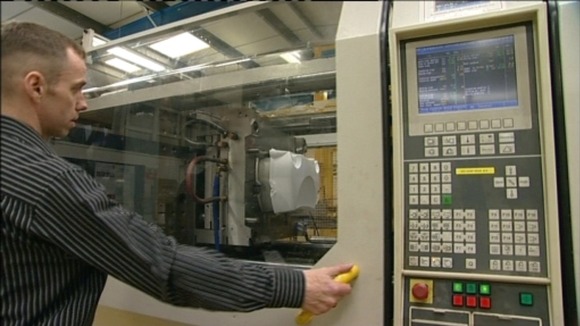 Trunki's parent company Magmatic from Bristol has found a manufacturing partner in Devon to produce the children's ride on suitcases. The cost of manufacturing in China is still generally cheaper than the UK but combined with the rising costs of shipping stock around the world and other production issues, the UK becomes much more attractive for production.
We're competitive yes, you always have to watch that but it's not just about the final price of the product, it's about what else you can offer, around the Trunki product we're printing it, we're assembling it and we're putting it into the box.
– Richard Bromley, Managin Director, Inject Plastics

Bringing manufacturing back to the West Country is a good news story. Inject will now move into larger premises in Plymouth and almost double its workforce as well as its turnover this year with another fifty per cent growth predicted next year. With strong sales anticipated for this year no wonder the Champagne corks were popping on the production line in Totnes to celebrate business to business investment within the West Country.