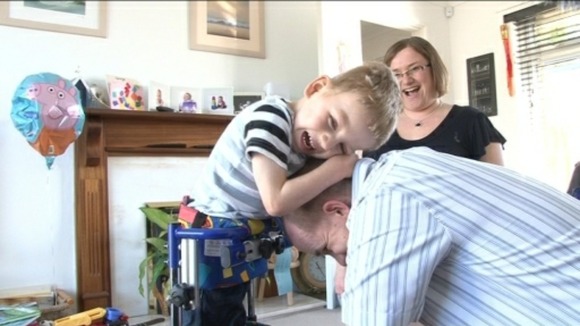 George Palmer from Braunton suffers from Cerebral Palsy leaving him unable to walk. His parents appeal for help was broadcast on The West Country Tonight in March. But in just sixteen weeks the money has been raised to send him for specialist surgery that's not readily available on the NHS.
It's incredible. I was completely gobsmacked and the whole family has been in tears during the last few days. We're just so, so happy; it's real now, it's going to happen. Our little boy is going to have a chance of using his legs. For the first time since George was born I feel like I can just sit back and be a mum.
– Nicki Palmer, George's mum

George is expected to go to the Children's Hospital in Missouri in October. The operation will remove the nerve endings which don't work properly to enable him to have a chance of walking. Friends and well wishers that the Palmer family have never met helped to raise the huge total in such a short space of time. The last five thousand pounds was donated by Barnstaple Round Table. The donations, though, continue to come in and will now go towards George's aftercare.
We still have further events to come. Some of my friends are even going to climb Mont Blanc in France next month to raise money for George. We're overwhelmed by the generosity of people and it'll all go to helping George in the months ahead."
– Nicki Palmer, George's mum

This courageous little boy will start school in September and have the chance to make some friends before leaving for America.

Our reporter John Andrews met the family in March this year. You can see his report here: