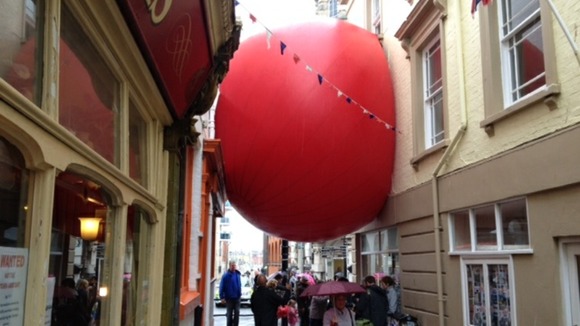 There's an unusual sight in Weymouth this week - a fifteen foot inflatable red ball!
It's part of an art project by New York artist Kurt Perschke, which aims to get people interested in their surroundings.
Co-produced by Torbay Council and The Dartington Hall Trust, the ball will visit 19 sites in total. It's already been to Torbay, Plymouth and Exeter, and will end its UK tour in London.
The RedBall Project has already intrigued and astounded people worldwide where it has been seen in unexpected locations - squeezed into alleyways and underpasses, inflated in town squares, and squashed into bus shelters and bridge arches.
Through the RedBall Project I utilize my opportunity as an artist to be a catalyst for new encounters within the everyday.

Through the magnetic, playful, and charismatic nature of the RedBall the work is able to access the imagination embedded in all of us.

On the surface, the experience seems to be about the ball itself as an object, but the true power of the project is what it can create for those who experience it. It opens a doorway to imagine what if?

As RedBall travels around the world people approach me on the street with excited suggestions about where to put it in their city. In that moment the person is not a spectator but a participant in the act of imagination.

I have witnessed it across continents, diverse age spans, cultures, and languages, always issuing an invitation. That invitation to engage, to collectively imagine, is the true essence of the RedBall Project.

The larger arc of the project is how each city responds to that invitation and, over time, what the developing story reveals about our individual and cultural imagination.
– Kurt Perschke

You can see the ball in the following locations in Weymouth and Portland:
21 June: St Alban Street & St Thomas Street
22 June: Town Bridge
23 June: Esplanade
24 June: Cove House Inn, Chesil Cove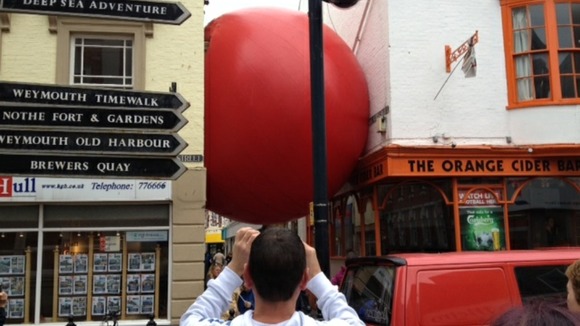 You can see Duncan Sleightholme's full report on the phenomenon here: