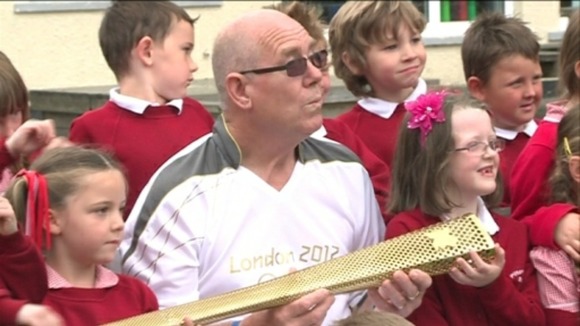 Richard Dean's greeting at Pilton Infants School in Barnstaple was as if he'd won an Olympic medal let alone simply being part of the London games as a torchbearer. The delight of pupils speaks volumes about their excitement around the Olympics. But for Richard, whose journey to carrying the torch involved the death of his son Kieran, it was an emotional return to the only school Kieran ever knew.
If it wasn't for Kieran and what happened I wouldn't have got involved with the Children's Hospice and if I hadn't got involved with the Children's Hospice I wouldn't have been nominated to carry the torch and to come back here where he always said that when he was better he would come back and run around with the other boys and girls so obviously it's a bit emotional but a great pleasure and to see the kids happy is lovely.
– Richard Dean, Olympic torchbearer

Kieran Dean was just six years old when he lost his fight for life. His parents Richard and Julie appealed for a bone marrow donor to help him overcome a rare immune disorder. But Kieran passed away and ever since his family have helped the Children's Hospice South West where he received care.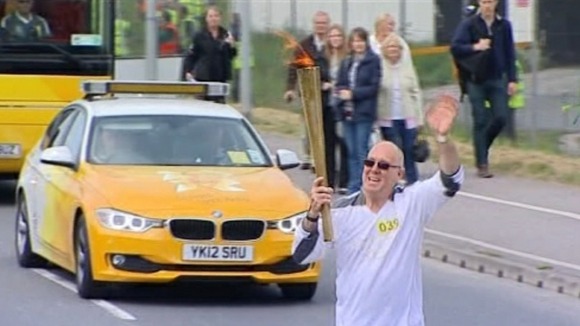 Richard carried the torch through Barnstaple on Day 3 of the relay after being nominated by his wife because of his many fundraising activities and support for other bereaved fathers. This amazing story and the chance to hold the torch itself left many of the children at Pilton Infants open mouthed in wonder.
I can't think of the words to describe it because it is so like amazing. It's just like we might never see it again so it's pretty amazing we've seen it.
– Millie and Jack, Pilton Infants School pupils
It has eight thousand holes that represents everyone that holds the Olympic torch and it's golden because the medals reflect off it and they run around with it for only four years.
– Tanisha and Ellie, Pilton Infants School pupils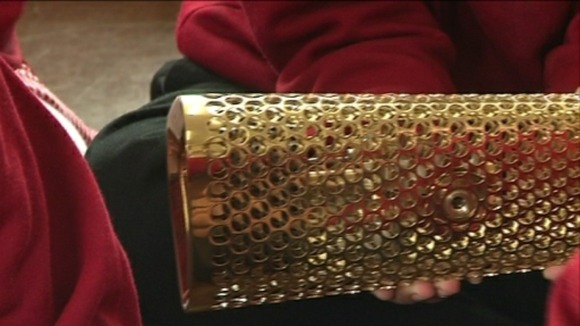 Richard would swap his involvement in the Olympic games to have his son with him but the legacy of Kieran's short life is providing so much inspiration for children who never knew him but now know of him.