200 tonne yachts to race off Falmouth for the first time since the 1930s
by Ben Haggitt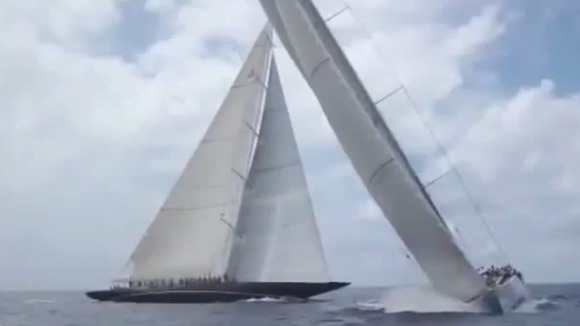 For the first time since the 1930s some of the world's biggest yachts will today be racing off the coast of Cornwall. The J Class yachts each weigh in at 200 tonnes, are 130 feet long with a mast towering at 180 feet high. Each costs £20m and requires a crew of 30 people to rave. They were originally designed in the 1930s to take part in the Americas Cup and only 10 were ever built. Of these only three survive and one will be taking place in the racing today.
Here is some footage of them racing off Newport, Rhode Island in the USA last year.
In the Falmouth regatta today one of the original boats, the Velsheda, will race along with three replicas. This is how the crew explain the experience:
It's some of the most exciting racing I've ever done. The boats are magnificent to be on and I think to watch as well.

Sometimes the crew have to scale the main mast which towers over the yacht at nearly 180 feet. The boat can be moving not so bad but at the top the bounce in the rig is mad so you kind of get thrown around a bit and it's pretty hairy but it's quite a bit of adrenalin as well so it's quite good fun really.
– Richard Searle, Crew member

More footage of the boats in action can be found here)

The start of sailing was delayed by fog but has now got underway. It's hoped the yachts will get full days' racing in the remainder of the regatta.