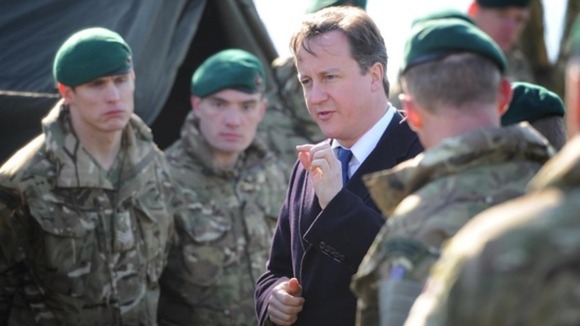 Communities across the region are showing support for servicemen and women today as the country celebrates Armed Forces Day.
A national event is being held in Plymouth, where there was a parade through the city by members of all three services, joined by military bands and veterans.
There are more than 100 events, ranging from veterans' parades and bands to barbecues and fairs, to mark as tributes to British troops and their families.
The day is to raise awareness of the contribution made by the Army, Navy and RAF, and to allow the public to demonstrate their appreciation.
Today is an opportunity for everyone up and down the country to clearly show how grateful we are to all our brave servicemen and women for all that they do.

It's also vitally important that we remember the sacrifices that the armed forces and their families make every day for the safety of our country.
– PRIME MINISTER DAVID CAMERON

The celebration comes as military charities report a 26% increase in donations since the beginning of the economic crisis in 2008.

Help for Heroes saw a 181% gain in income, while Support Our Soldiers, which sends care parcels to the frontline, saw an 87% increase, according to The Sun.

The parade will finish on the Plymouth Hoe with a drumhead service, although entertainment will continue throughout the day.

The city council plans to close a number of roads for the fourth UK Armed Forces Day.

Armed Forces event schedule:
11:15 - Start of parade from the Royal Citadel, Plymouth Hoe
11:50 - Drumhead Service
12:10 - The Royal Air Force Battle of Britain Memorial Flight's Spitfire display
12:20 - Royal Navy Historic Flight's Sea Fury display
12:30 - Field gun competition between Cornwall's HMS Raleigh and Plymouth's HMS Drake competing for the inaugural Tamar Challenge Cup
14:00 - Type 23 frigate HMS Argyll and Royal Fleet Auxiliary ship Mounts Bay will conduct a steam-past and gun salute.
14:15 - Music on the arena stage on the Hoe, featuring the Military Wives' Choir and the Salamanca Band of the Rifles
17:00 - Air show featuring the Royal Air Force Battle of Britain Memorial Flight and the Red Arrows
18:00 - The South West Pipe and Drums will close Armed Forces Day in Plymouth