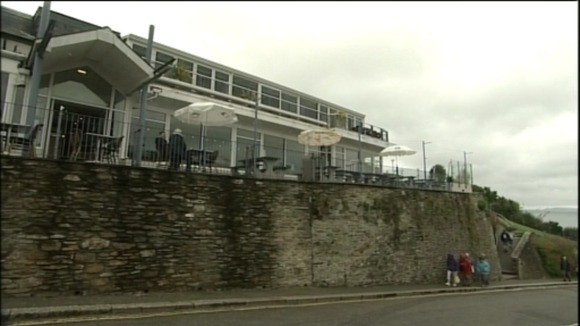 Devon and Cornwall police have issued a warning for people to take care when they leave pubs.
They've released these CCTV images of a man climbing over safety railings and falling 20 feet on to the pavement below in Newquay.
The incident happened in the early hours at the Chy bar in Newquay.
A 23-year old local man escaped serious injury. He didn't want to be identified, but has agreed for the footage to be shown to try and discourage others from trying to do something similar.
The video below shows how far the man fell:
Devon and Cornwall Police say the man was extremely lucky to only suffer a fractured wrist:
When you see the video you just assume that he would be dead or paralysed.
– Ian Drummond-Smith, Devon and Cornwall Police

The bar overlooks Newquay's Towan beach. It's owned by a local family who said they were shocked by the incident.
We've been here as a family for about forty years, and it's the first time it's ever happened.
– Ian Whittaker, Chy Bar

The warning comes just days after thousands of under 18s have arrived in Newquay to celebrate the end of their exams.

So far a policy to clamp down on rowdyism and under age drinking has worked.
The first week's gone really well and in fact when you look at the people we've banned from the town or arrested last week the youngest was 20.

So far the under 18s have been really well behaved.

We have taken quite a bit of alcohol off people, but no arrests so far and hopefully they are heeding the warnings.
– Ian Drummond-Smith, Devon and Cornwall Police

The man in the CCTV footage is just grateful his foolish behaviour didn't cost him his life.