They're the last thing you'd expect to flourish in the dismal summer we've had so far. But the region's strawberry growers are enjoying bumper crops.
That's because much of it is grown under cover. One grower in Cornwall said he used to lose fifty per cent of his strawberries when they were exposed to the elements. Now it's down to as little as 2%.
You will find that most people in England now and in Scotland especially are growing in a structure of some sort.
– JEREMY BEST, Strawberry grower

Jeremy farms more than 30 acres of fruit at Mitchell near Truro. Four and a half acres is devoted to strawberries, most of it protected from the elements.

When he first started in 1976, most of the crop was grown in open fields. Jeremy said that in a bad year, he probably lost 50% of the crop, whereas now he is probably losing two or three per cent.

Outside of the tunnels, the weather has ruined the crop, causing grey mould on the fruit. Jeremy describes the discoloured strawberries as "hairy monsters". If Jeremy hadn't have covered his produce before the rain, he believes he would have lost 85% of what he grows.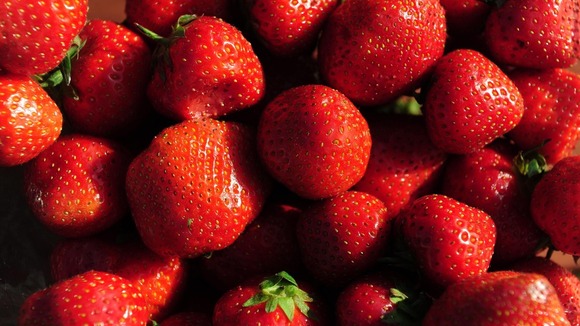 There are 10,000 plants in this area alone and to hand water them all would take an age. But's all done by a computerised irrigation system, drip feeding water and fertiliser.**
– JEREMY BEST, Strawberry grower

Jeremy keeps a constant ear on the weather forecast and when there's a warning of heavy rain he battens down the hatches.

Strawberries - for ever a sign of summer even if the weather's not to our taste.