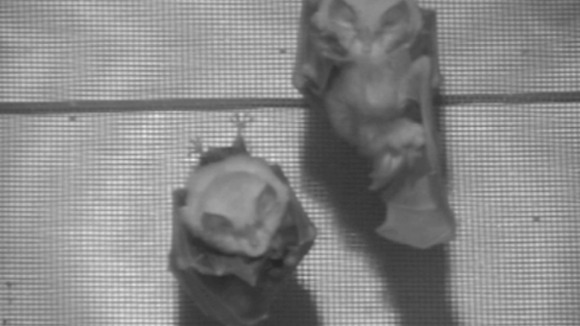 Visitors to Hestercombe House near Taunton will soon be able to view unique footage of baby bats learning to fly. The Lesser Horseshoe Bats arrive to give birth in specially prepared quarters in full view of CCTV cameras. The Hestercombe Trust has now painstakingly pieced together the best bits for public consumption.
Hestercombe is home to nine of the country's 17 bat species. The Trust used CCTV cameras to film the bats without disturbing them and then as the bats came out into their night time feeding grounds their flight was captured by infra redcameras.
This rare footage shows baby bats hang upside down from their mother's shoulders. The footage also shows the adult bats returning from feeding and then greeting their young with what appears to be a prolonged kiss. It's believed to be a way of checking they are hooking up with the right pup before another long day spent hanging about under the rafters.
The most extraordinary thing is the fact that the female bats hold their young, which are known as pups, actually in their mouths or at least off their shoulders to allow the baby bats to practice flying, which as far as we know this behaviour has never been recorded before.

It gave us an opportunity to show them to the public and educate the public in these beautiful and very rare animals."
– Philip White, Chief Executive of Hestercombe Gardens Trust

The Trust has transformed the derelict and abandoned gardens and barns at Hestercombe to create a successful visitor attraction. But it also claims to have turned itself into a wildlife haven.

It has recently spent a £100,000 donated by the Heritage Lottery Fund and the waste company Viridor. The bats have special loevure vents fitted to attic spaces to allow them to flit in and out while a dam has been restored to create a lake swarming with insects.
"This is a really important valley for the bats. They come up from the main part of Hestercombe, sweep down across here at night time, and all the new work that's been done here to improve their habitat should provide them with more insect life, spiders midges, little beatles, insects flying across the lake here a perfect feeding bowl."
– Rebecca Pow, Hestercombe Gardens Trust