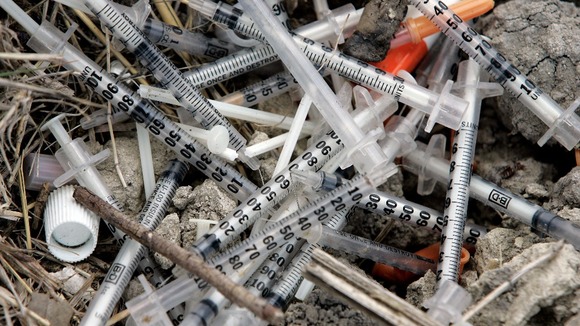 Two cities in the South West have among the highest number of people in the country on benefits because of their drug addiction. Bristol is top of the list with more than 14,000 in that position - Plymouth is seventh with 670.
There are many theories about how best to tackle the problem of drugs - but this project in south Bristol is thought to be unique. Recovering addicts work for a business which they could alsp help to run.
Lee Evans is building a new farm shop while also rebuilding his own life.
I'm not going to lie - I enjoyed the heroin and the crack too much. I enjoyed the buzz. But I've come to a point in my life where if I don't do soemthing I'm just going to die.

I've been clean now for twelve weeks - I'm doing OK. I'm not saying it's easy - every day's a struggle. But I manage to get up every day and make the change.
– Lee Evans, recovering addict

The Severn project was set up two years ago to find ways of getting addicts not just off drugs but into the habit of productive work - growing fruit and veg for local restaurants. Six people in work is six fewer on benefit, according to the founder.
We need to help people develop their potential and move foreward in life with a role that they can be proud of.

And that way you get them off the addictiion?

That way they break their dependence on substances, their dependence on welfare, and become self-reliant.
– STEVE GLOVER Founder, The Severn Project

Though it does get some grants and a subsidised rent, the idea is to use income from the business to employ former drug users or help them become self-employed --and create a viable model which can be copied in other parts of the country.

Find out more about the project here or click here for more information on these issues.