The organisers of the Weymouth Bayside Festival have gone into liquidation.
The event is supposed to run for the duration of the Olympics, and features live entertainment, display acts and exhibitions.
Visitor numbers have been disappointing, and the admission price has been reduced several times.
A statement on Twitter by the organisers read:
Due to dire visitor numbers to Weymouth, Bayside Festival organisers have elected to voluntarily liquidate the business and close the site.
– Bayside Festival organisers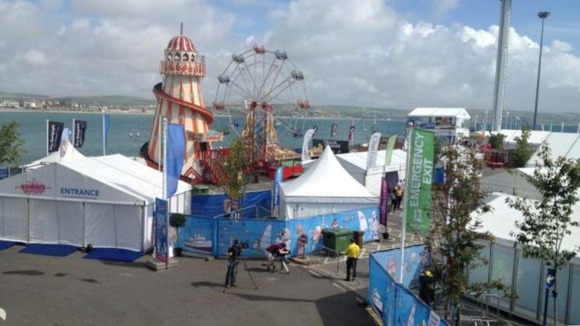 The gates to the site are currently locked, and visitors are being turned away.
Traders and Weymouth and Portland Borough Council are trying to save the event.
The borough council is very disappointed for the company behind the Bayside Festival.

The decision to close this single part of what is on offer in Weymouth at the moment is entirely a matter for the commercial operator of that site.

People still have ten days to enjoy a once in a lifetime experience - the Olympics by the sea in Weymouth and Portland.
– David Clarke, Weymouth and Portland Borough Council

You can see Duncan Sleightholme's full report here: