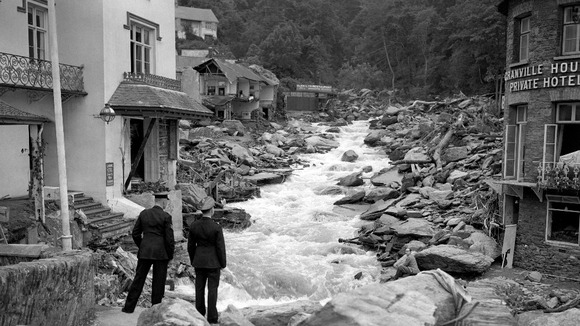 On the night of 15th August 1952 thirty four people died across Exmoor as they were swept away by rivers swollen with rain water.
Twenty eight people alone were killed in the North Devon villages of Lynmouth and Barbrook in the usually tranquil and picturesque Lyn Valley.
It remains the West Country's worst peacetime disaster.
It just looked as if a massive bomb had hit it and it was very difficult to take in really.

Most of it had just completely disappeared overnight. It was not the village that I knew and loved.
– Valerie Robson, Lynmouth Flood survivor speaking on the 50th anniversary in 2002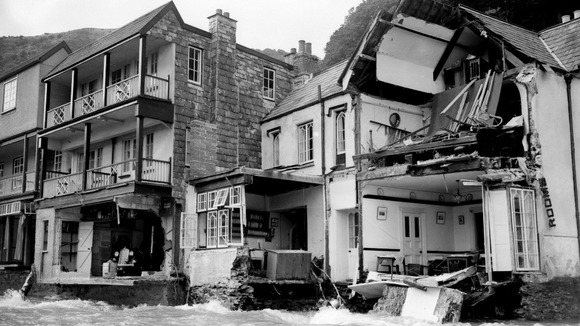 After a day of heavy rain, what was described as a cloudburst occurred that night. The fields of Exmoor were already saturated.
Ninety million tonnes of water had nowhere else to flow than down the two rivers that converge on Lynmouth. These torrents swept away everything in their path.
Trees and rocks smashed through riverside properties. At 9.30pm on the West Lyn river, twelve men, women and children died just outside Barbrook as four cottages were destroyed.
On the neighbouring East Lyn, six people died at Bevans Cottages and three at Middleham where ten cottages were washed away.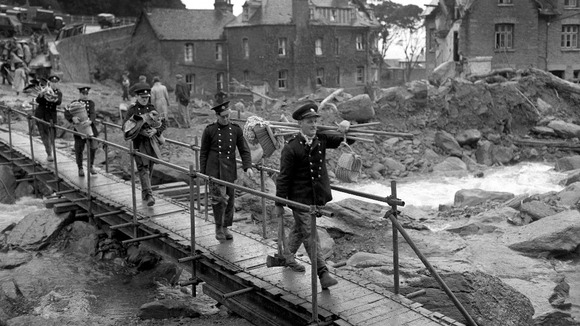 I think we can look back and consider, some of us, how lucky we are - myself included - to be alive.

It wasn't their fault that they were swept away by the heavy water that came down.
– Derek Harper, Former Lynmouth Policeman speaking on the 50th anniversary in 2002

Derek Harper was later awarded the George Medal for his bravery that night as he clambered over the hills towards Porlock to the only phone that worked to call for help.

There are many other accounts of bravery. The water also claimed the lives in Parracombe and Filleigh. The devastation came in darkness and daybreak brought with it horrific scenes.

The recovery operation took many weeks and more than a hundred thousand boulders were removed. A hundred buildings were destroyed or damaged.

The Queen sent a message of sympathy to all those affected.