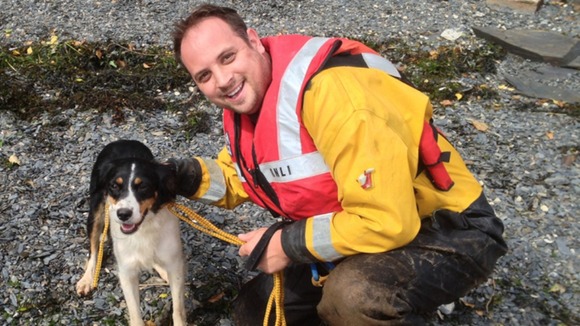 The RNLI has rescued a dog from a cliff ledge in North Cornwall.
Collie-cross pup, Beauty, had gone over the 20 metre cliff between St Saviours Point and Padstow and was stuck at the half way point.
RNLI volunteers from Rock launched the inshore lifeboat, and crew-member James Batters climbed out of the boat and up the cliff face to rescue it.
We decided to call the coastguard cliff rescue team but then the dog started to sound very distressed so I made the decision to climb up the cliff.

I had to go a good 15 metres up to reach Beauty. I was then able to safely bring him down the cliff and deliver him back to his owners who were on a nearby beach.
– James Batters, RNLI Helmsman at Rock

RNLI lifeboat crews are sometimes called on by the coastguard to assist in the recovery of dogs to ensure distressed owners don't put themselves in danger trying to rescue their pets.

The RNLI depends on voluntary donations to maintain its rescue service. Since the RNLI was founded in 1824 its lifeboat crews and lifeguards have saved over 139,000 lives.

For more information on the RNLI, visit their website.