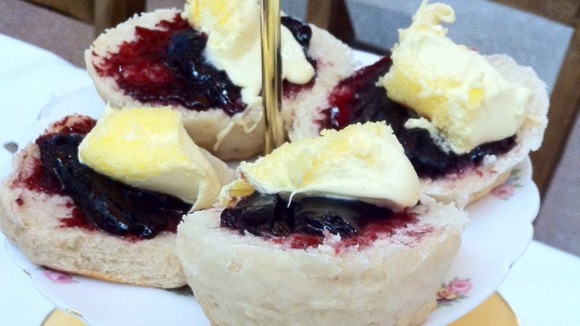 Cornish food producers are welcoming a campaign encouraging shoppers and businesses to buy local.
'Choose Cornish' aims toget people to make an effort to buy locally produced food each week to boost the county's growing food industry.
It's being launched aspart of the Cornwall Food & Drink Festival, which takes place on Truro's Lemon Quay from Friday 28th to Sunday 30th September.
The campaign is a joint initiative between Cornwall Food and Drink and Cornwall Chamber of Commerce.
We all have choices about what we buy and where we buy it from; that's why we've called it 'Choose Cornish'. We want to encourage people to make an active decision to do just that. Very small changes by people or businesses individually can make a massive collective impact. For example, if everybody who lives in Cornwall spent just an extra 50p of their weekly grocery budget on local produce from a local supplier, it would deliver well over £10 million into Cornwall's economy in a year.
– Ruth Huxley, Cornwall Food and Drink Festival Managing Director

It's also hoped the campaign could improve trade for Cornish businesses over the slow months and reduce the environmental impact of Cornwall's business community.

The idea has beenwelcomed by Cornish food producers.

Roger Olver of the Cornish Duck Company is one of the exhibitors at this year's Cornwall Food & Drink Festival.
I know everyone is short for cash, but an extra 50p spent with us would make a huge, huge difference and benefit the whole county. Where they buy from supermarkets the money goes out of the county, whereas buy from a small producer it stays in the county and everybody's happy.
– Roger Olver, The Cornish Duck Company

This year's Cornwall Food & Drink Festival features more than 60 exhibitors, live chef demonstrations and culinary challenges in the Chefs' Theatre. There'll also be a chance to sample Cornish cuisine from a range of producers.
To all intents and purposes, this is a 'buy local' campaign and that's nothing new, but we've noticed that one of the effects of the current recession has been a shift of focus, away from all the well-proven benefits of keeping business local to messages that are all about cheapness rather than real value for money. We want to rectify that, but we also want to make sure this campaign produces some quantifiable benefits and not just hot air, so we will be introducing some targets and measuring the impact of the campaign. We're going to take a good look at actual prices too, because we're certain that 'local' doesn't have to mean 'expensive' at all.
– Kim Conchie, Chief Executive of Cornwall Chamber of Commerce

Watch the full report by Kathy Wardle here: