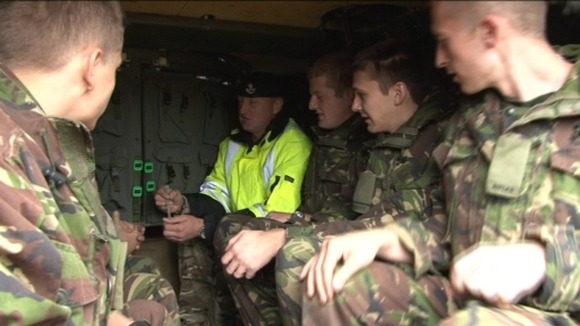 The heaths and woodlands are crackling with the sound of gunfire. But the men wielding the weapons aren't regular soldiers.
The Sixth Battalion is the TA section of The Rifles Regiment and most of these men have given up a fortnight's leave from their civilian jobs to come here to hone their fighting skills in the middle of Germany.
They're from all across the South West and from all walks of life, from students to property developers.
It's quite hard. Last week I was at property auctions buying property, this week I'm out in the field 'battling'.
– Cpl Martin Harknett, Property developer from Truro

The company commander is a tree surgeon from Weddon Cross on Exmoor and he's happy with the way it's going:
It's going very well so far, we've gone back to basics, working our way up to a big battalion exercise at company level.
– Major Jonny Webber, Tree surgeon from Weddon Cross
We mobilise and we deploy to places in the middle east, we've got to go through the same routine here.

At the moment, here on Haltern training area we are the only unit. Exclusive use and that sort of thing we don't get very often.
– Lt Col Neville Holmes, Commanding Officer, Sixth Battalion The Rifles Regiment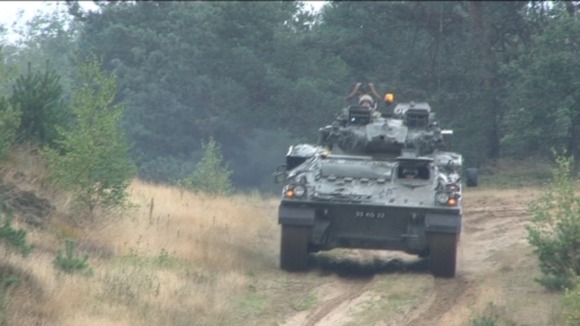 All this free space means they can get their regular colleagues from Five Rifles involved.
They've brought their Warrior armoured personnel carriers from their base at Paderborn a hundred miles away, and that's proving very popular.
Its brilliant. Half an hour ago we were in Warrior tanks - first time in Warrior tanks, first time in a tank!

It's like every kids dream to play soldiers and play around in tanks and stuff. It's really good fun!
– Rifleman Karl Thomason, Martial arts expert from Portland

A trip to Germany and such unique experiences are some compensation for the amount of time they give the TA on top of their civilian jobs.
You wouldn't get that as a student in the average civilian part time job like working in a supermarket, whereas this pays and you get such a good laugh as well.

We're here in Germany having a good time.
– Rifleman Jack Daniels, Sports science student from Plymouth
Couldn't have asked for a better scenario for the weather and the type of training we are being put through.

Some elements are really back to basics, but at the end of the day everyone needs to go through the same training now and again to refresh themselves - work out the kinks and stuff like that.
– Rifleman James Scanlon, School technical support technician, Cheltenham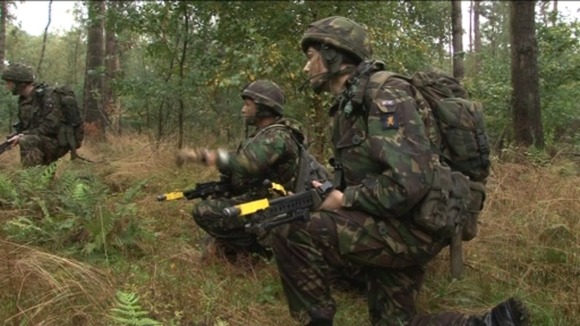 The weather is the only cause for complaint so far. One of their officers works in the Met Office in Exeter and regularly gets stick from his men when the heavens open.
I get stick when I get it wrong, and now today I'm getting stick because we got it right!
– Capt Chris Tarry, Met Office incident officer, Exmouth

But they'll get on with it, whatever the weather, knowing that they'll soon be taking on a bigger role than ever in Britain's defence.

Part one of a four-part series by our Defence Correspondent John Andrews can be viewed here: