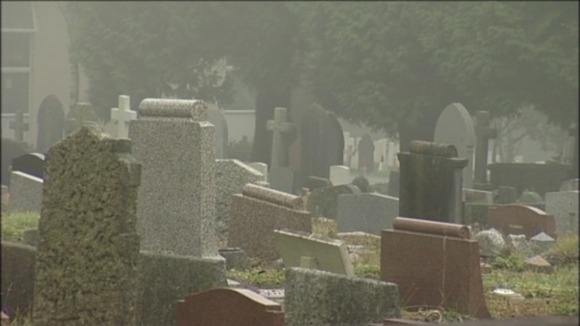 Police are investigating after a cemetery in Plymouth was vandalised. Thugs smashed up graves and headstones at Efford cemetery - including a baby's final resting place.The vandals smashed ornaments, kicked down headstones and ripped up flowers - leaving grieving families heartbroken.
Andy Jean found his mother Marie Jean's grave had been severely damaged in the attack.He made the discovery after visiting the cemetery to pay his respects on what would have been her 80th birthday.Andy said: "It looks as though some of the stones were kicked over, one of which was my mum's.It's immoral and shows a complete lack of respect for other people."
The thugs also smashed toys left on a grave belonging to a 13-month-old-baby, Chloe Elliott.Broken beer bottle glass was found all over her grave.
Police say families have been left ''distraught and upset'' by the vandalism.
The cemetery opened in 1907 and is open to the public 365 days a year.
There have been a number of cases of criminal damage to grave sites at Efford Cemetery.Normally the youths around there are very respectful. That's why we were so shocked to see what has happened.At the moment it's too early to say whether these grave sites were specifically targeted.Whoever is responsible has damaged the epitaphs themselves and strewn toys and other regalia around the area.We want to hear from anyone who has information about the incident or witnessed anyone acting suspiciously on that evening in the cemetery.'Families have been left distraught and upset at the lack of respect shown to their loved ones".
– Sergeant Tim Hinde, Devon & Cornwall Police