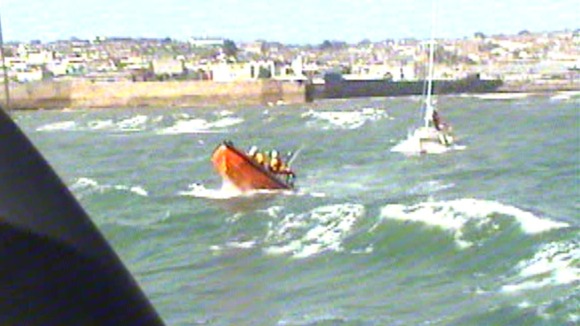 Lifeboat volunteers faced high waves and high winds to come to the rescue of a yacht that had gone aground in the entrance to Penzance harbour.
Despite a six metre swell and a southerly gale, as well as one engine giving out briefly, the Penlee lifeboat team managed to attach a tow rope and - eventually - pull the vessel to safety.
The coxswain at Penlee says the crew volunteers did a brilliant job:
Despite losing an engine and getting swamped time and time again, the three lifeboat crew managed to keep hold of the yacht until just after low water when she began to float and they were able to pull her away and tow her out to the all-weather lifeboat. They then took the boat to Newlyn where using both lifeboats, we managed to steer the yacht through the narrow entrance and on to a safe berth.
– Patch Harvey, RNLI Coxswain at Penlee

The three people on board the 30 feet yacht had left Penzance on Wednesday morning heading for Weston-super-Mare but turned back when one of them fell very seasick.

A huge swell running into the harbour grounded the yacht as it entered the port and it ended up on its side.

The lifeboat was itself swamped by the sea several times as it tried to come to the rescue as this footage from the RNLI shows:

With high winds forecast again today, Patch Harvey has issued a warning to sailors.
I would remind people to listen carefully to the weather forecast before setting out. Today there are warnings of southerly force eight winds that are likely to increase and there's already a rough sea in the bay. I'd like to keep the lifeboat safety moored up at times like this and hope other sea goers feel the same way.
– Patch Harvey, RNLI Coxswain at Penlee