Thousands of people set off on coaches from Devon, Cornwall and Somerset early this morning.
They are heading to the Capital for a march and rally against the Government's austerity policies.
Demonstrators say they want an alternative economic strategy which puts "jobs, growth and people first" and stops public service cuts.
The government says austerity measures are vital to cutting the deficit.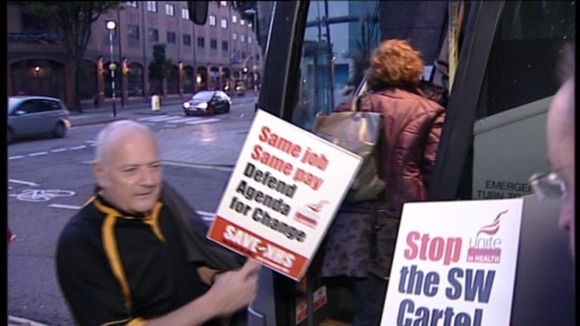 'A Future That Counts' is organised by the TUC, the body that represents trade unions.
The focus of the march will be to secure a better future for the UK's young people. Organisers say one million young people are currently out of work.
Austerity is failing and nowhere is this more visible than the plight of the million plus youngsters who are desperate for work but find themselves hunting for jobs in the toughest jobs market for a generation. Not only are these young people suffering, but their parents are too. The worry that their children may become part of a lost generation is causing great distress

"Life has become unbearably difficult for many people, especially those who have come to rely on essential public services which are now being cut back or axed, and households where a family member is without any or enough work.

"Saturday's march and rally will allow thousands of ordinary people from across the South West to show the government exactly what they think of its discredited economic policies. The time has come for a long overdue change of direction which puts jobs, growth and people first."
– NIGEL COSTLEY, REGIONAL SECRETARY, SOUTH WEST TUC

Marchers will assemble on the Victoria Embankment in London from 11.00. The rally in Hyde Park starts at 13.00 and runs until 1600.

Labour leader Ed Miliband is among dozens of speakers due to address crowds in Hyde Park.