What's On
Hook, Line and Drinker!
by George Zielinski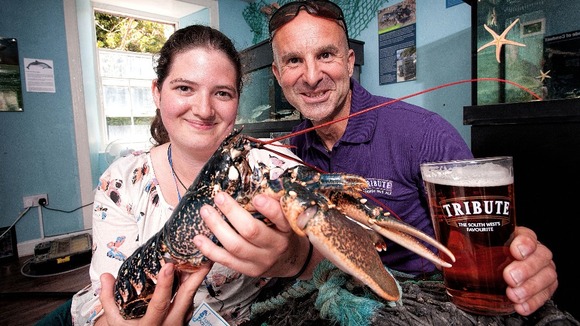 It's not just us humans who have been sweltering in the Summer sun this week.
Fish at Falmouth Aquarium have also been feeling the scorching seasonal affects, with tank temperatures soaring.
With the fish in danger of frying, the Aquarium's Marine Biologist Chloe Kingston put in a call to an unlikely source for help - the local brewer.
What the St Austell Brewery has done is literally save our fish at the Aquarium... we have our Cornish fish tanks that were really suffering because their water needs to be especially cool.
– Chloe Kingston, Falmouth Aquarium Marine Biologist

Using St Austell Brewery's beer cooling equipment, the tanks are now being brought back down to normal levels - just in time for further hot weather expected this weekend.
St Austell Brewery was delighted to help out when we got the call from Falmouth Aquarium...it's the first aquarium we've done, Proper Job!
– Andrew Ferguson, St Austell's Brewery