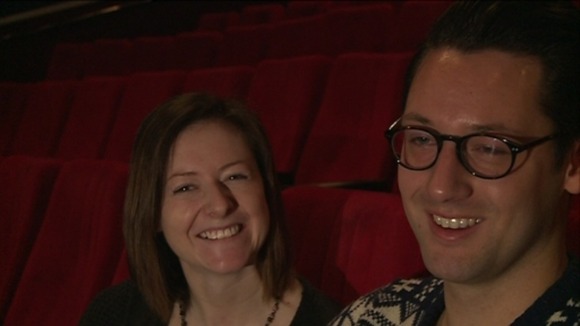 Ben Heath decided to propose to his girlfriend Natalie in style. He wanted a bit of romance and a proposal with a difference. So Ben proposed in his local cinema in Barnstaple in front of the entire audience.
But not content with that Ben popped the question in a four minute film that that took nearly half a year to plan and produce. Luckily, Ben got the answer he wanted.
Seth Conway reports:
The cinema played their part in this rom com by putting Ben's proposal movie on their biggest screen before a recent showing of The Hobbit.
Making his excuses, Ben left his seat just prior to the performance for maximum impact but his bride to be almost missed her personal blockbuster.
Because I hadn't seen the first Hobbit I was looking down at my phone at the synopsis of what it was all about so I didn't get lost throughout the film and then I heard Ben's voice come over the screen and I thought 'oh, that doesn't sound quite right' but it wasn't properly until the bit where my dad was shown when I realised it was about us.
– Natalia Maull

Here is the full four minute version of Ben Heath's romantic proposal film: