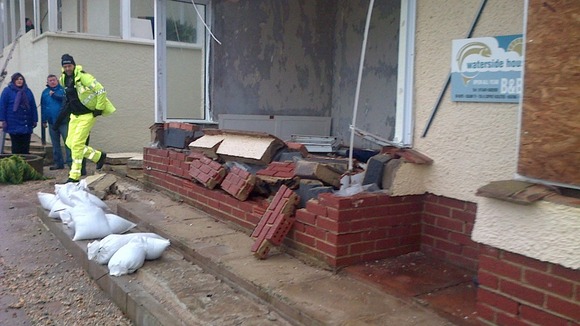 Shingle thrown onto Slapton Line by the storm forced the closure of the road to vehicles this morning and four homes have had to be evacuated on the seafront at Torcross as the high tides smashed the fronts of four properties.
A team of 15 carpenters, masons and labourers from South Hams District Council's works department surveyed the damage and helped where they could to ensure residents were safe during today's tidal surge and severe storm.
They are providing 12 tonnes of sand bagged up to help keep the water out of homes and 15 sheets of plywood to board up those those homes damaged by the waves. Even parish sweepers have lent a hand to fill sandbags.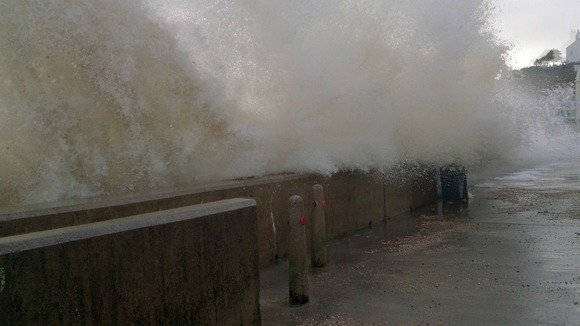 More than 20 properties were affected by flooding and nine people were evacuated. One unfortunate resident had the front bay window completely destroyed.
A
"Our teams have been down there since early this morning trying to make sure people are safe as possible in the circumstances.

"The properties were evacuated because there was danger from broken glass and further damage caused by the breaking rollers.

"We also have unconfirmed reports that there may be a breach in the sea defences and that the rebuilt road in front of Slapton Ley is threatened. We are awaiting reports back from our engineer at the scene."
– South Hams District Council spokesman

Hard pressed road engineers are also trying to assess whether the road has been damaged. The council has also had reports of damage to a rock face near Hope Cove which Devon County Council are investigating and a potential problem with the coast path near Thurlestone. Residents are being urged to stay away from coastal areas for their own safety at this time.