Floods Minister hears concerns in Trevone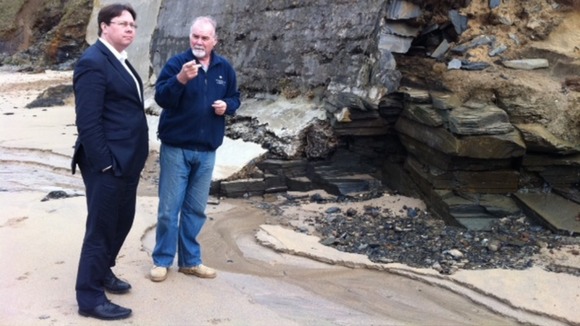 North Cornwall MP and Floods Minister Dan Rogerson has been hearing the concerns of residents in the storm damaged village of Trevone.
A huge hole has appeared in the sea wall caused by rough seas.
Talking to the Cornwall Councillor for the area, it will take time because they obviously have to get it assessed to make sure that it is put back carefully. As a minister in government I'm making sure that Cornwall Council have the resources they need to get all this work done as soon as they can.
– North Cornwall MP and DEFRA Minister Dan Rogerson

The road above has crumbled leaving a 6ft crater. It means the village has been split into two.

Local people are concerned the mess will stop holidaymakers from visiting, and could leave the village completely cut off if the narrow lane also became blocked.
The mess on the beach with the rubble everywhere looks terrible for anyone that wants to come holiday, so it will effect tourism here.
– Richard Higman, Padstow Town Council

Residents are waiting for the wall to be assessed by Cornwall Council engineers before repair work can begin.