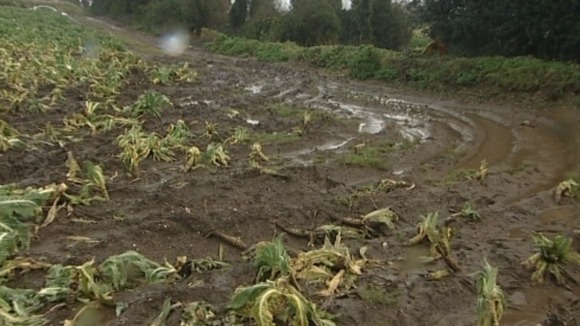 Farmers across the West Country say months of bad weather is causing havoc. In Cornwall only 5% of this years early potato crop has been planted because of the sodden ground.
It means there could be a supply shortage in the early summer. And cauliflower crops normally harvested at this time of year have also been damaged by the wet soil.
Penzance vegetable grower David Wallis's Cauliflower fields have become trenches. Weeks of wet weather have drenched the soil.
"We've had rain continuously, we've been unable to get onto the ground to plant the potatoes. We generally need four or five days of dry, high pressured weather to be able to come in, plough the ground over and leave it dry for a day and then plant up with potatoes."

"If we get a kind spring it might not end up costing us a lot because they will catch up. If we get a cold spring, it means we wouldn't be able to harvest til mid late May, it could end up costing tens of thousands."
– David Wallis Vegetable Grower

That might mean you wouldn't see many Cornish potatoes on the shelves in early summer. David's family grows 40 acres of cauliflowers across the Crowlas area. A tenth haven't grown properly, suffering in the waterlogged muddy fields.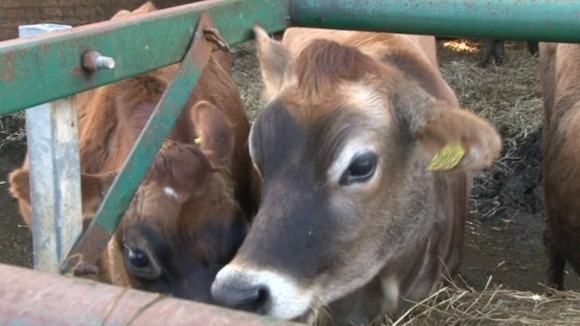 Livestock farmers are having a hard time too. Chris Cardell is a spokesman for the National Farmers Union (NFU). He keeps a herd of 130 dairy cattle at Probus near Truro.
"We've had to keep stock in longer, these cattle you see would normally be going out for a few hours this time of year. Unfortunately we're not able to get out there because the ground is sodden, so we're having to keep them in, so we're buying some extra fodder just to get through, that's the sort of implication it has for us."
– Chris Cardell NFU Spokesman & Dairy Farmer

These are difficult times for livestock and arable farmers. All are hoping some good fortune is on the horizon.

Watch Kathy Wardle's report below: