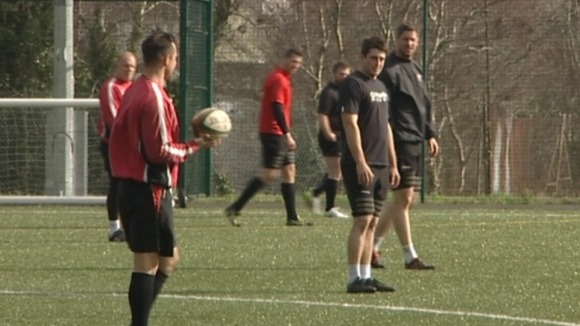 In rugby the Cornish Pirates entertain Jersey in the Championship on Sunday. The Cornish Pirates are in transition both on and off the field. Long term benefactor Dicky Evans is stepping down and handing over ownership to the supporters. The fans can now buy shares in the club. On the pitch the Pirates have a relatively young squad with plenty of potential.
"You know Dicky Evans has been a big supporter of the club for a long, long, time but a change to the share holders will make a difference, a management board making decisions rather than a smaller management of four or five people, but it's still rugby at the end of the day, that's what it's about. This young group of players coming together, we've got to keep them together now, before the vultures arrive and take them away from us but we've got to reach that potential as well, it's all well and good having potential but you've got to reach it."
– Ian Davies, Director of Rugby

The next couple of seasons could determine the long term future of the club. The Pirates have a three year plan to one day play in the Premiership but they can't achieve that here at the Mennaye Field this ground isn't up to scratch and is unlikely ever to be up to Premiership standard.
"I think it's fair to say the club has been in transition for a couple of years already, you know certain uncertainty about what the futures going to hold obviously a lot is going to depend on the stadium but that's out of our hands now as players we're just trying to get our minds focussed on the next game."

**
– Keiran Hallett, Fly-Half

The long-awaited Stadium for Cornwall could be back on, funded by a new supermarket, petrol station and leisure facilities. The proposal has been on hold since 2012, when councillors voted against providing ten million pounds of public money towards the project.
" I think the club's shown in the last few seasons that it's definitely a power, it can be a power within rugby in the Championship, we've gone really well, we need that stability like the off field stuff like the stadium to happen, if that does happen, I'm sure the sky is the limit for the Pirates, you know we've got potentially a good squad but that's all it is at the moment potential, we need to see that potential realised, get the things going off the pitch and hopefully we can move on up.We know Cornwall's a hot bed of rugby."
– Chris Morgan, Forward

The Pirates could still end this season with some silverware they along with Plymouth Albion are in the quarter finals of the British and Irish Cup but if their longer term plans come off, the glory days might not be that far away.

You can watch Jeff Welch's full report on this below: