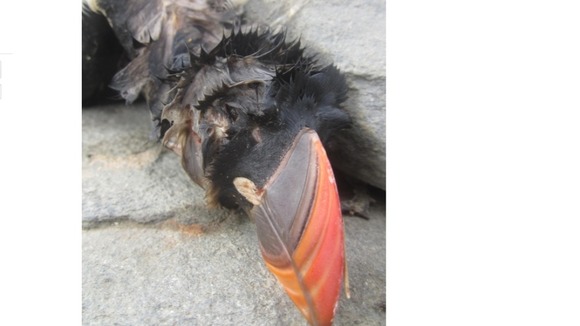 During February more than 1,000 dead seabirds were found around the coasts of Cornwall, Devon and Dorset in SW England.
Only a small proportion has been found alive.
More than 20 different species have been recorded with the major casualties being auks (guillemots, razorbills and puffins) with smaller numbers of kittiwakes, gannets, fulmars, gulls and shags [Note One].
Birds also washed up on beaches elsewhere around the UK (including 600 in Wales) and more than 1,000 have been recorded in the Channel Islands.
Tony Whitehead from the RSPB says wildllife is experiencing great pressures from climate change and human interaction:-
This seabird wreck, on a scale unprecedented in living memory, could have profound impacts on vulnerable seabird breeding colonies.

We have genuine fears that increasing storminess associated with climate change will undermine our internationally important seabird populations.

Many of our seabirds are already under pressure because their staple summer diet of sandeels is in_ _decline in response to sea warming, another result of climate change, which is making it a struggle to find enough food for themselves and their chicks.

We can and do help seabirds on land by protecting their breeding sites and undertaking seabird recovery projects on islands. But we must do everything in our power to protect our seabird populations at sea and make them and other marine life more resilient to the devastating effects of these `storm wrecks' by designating marine protected areas (MPAs).
– Dr Euan Dunn, RSPB principal marine advisor

Puffins have fared particularly badly, with more than 30 reported dead around the UK, 97 dead in the Channel Islands and 14,455 dead and 1086 live found on beaches in SW France.

These small birds can't dive very deep to find their food and storm turbulence means fish are likely to move deeper in the water column to find calmer conditions.

Even if fish are still close enough to the surface for puffins, the RSPB says that feeding in storm-tossed seas must be akin to trying to see and catch fish inside a washing machine set on spin.