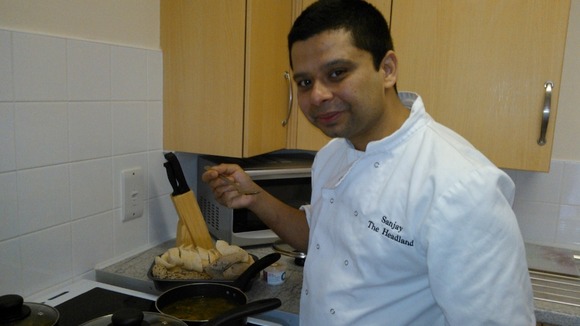 A chef from Cornwall is doing healthy cooking demonstrations in GP surgeries and care homes to help people improve their health.
Sanjay Kumar is Head Chef at the Headland Hotel in Newquay.
He's been working with Cornwall Council Public Health on a trial project to use food as medicine.
This week he showed residents at Miners Court sheltered housing complex in Redruth how to cook an easy spinach and lentil soup.
As Hippocrates said, food is the best medicine, and my effort is to create a positive, edible revolution in Cornwall, based upon frugal common-sense eating. We hope to develop this initiative to contribute to a positive social movement around food and good company. GP practices are a good venue for people to kick-start change, and in care homes, we can stimulate the ideas of healthy eating amongst residents and carers.
– Sanjay Kumar, Chef

'Food and Cornwall' is a project covering the environmental, economic, political and social aspects of food, linked to the health and wellbeing of the community.
We have been looking at the positive impact food can have in many different ways in Cornwall, and one of the gaps we identified is with older people. These trials are genuinely innovative ways to explore whether we can make a difference. Sanjay is an amazing chef who has been working with food banks in his spare time and it's been a real privilege to work with him on the wider food agenda. If his sessions are successful, we will look to offer them in other locations.
– Stuart Bourne, Deputy Director of Public Health

Sanjay will be running another cooking demonstration on Saturday at Newquay Health Centre, between 10am and 1pm.