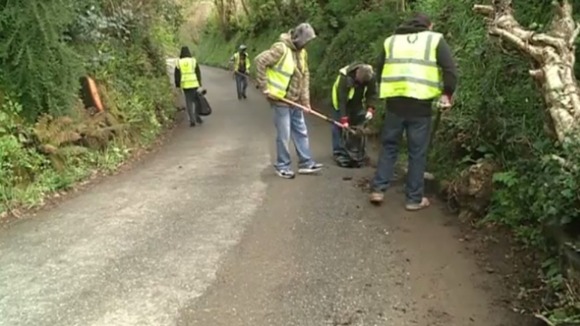 A pioneering project which involves using ex-offenders to protect areas at risk of flooding in Cornwall is being rolled out across the UK.
The Leaf Litter Project uses people serving community orders to clear debris from drains - and has proved to be a great success.
South east Cornwall was swamped by flash floods in November 2010. One of the major causes was leaves blocking drains.
And one way of keeping drains clear was the Leaf Litter Project. During the autumn and early winter, ex-offenders clear up loose leaves.
They work in high risk flood areas of Lostwithiel, St Blazey and Par.
The project's worth was shown on December 22nd last year. The ex-offenders came off their Christmas break to respond to an amber flood alert.
Two teams came out and 94 bags of leaves were taken from the hill in just that one day in preparation just before the amber rainfall came and it did come and there was a lot of rain but Lostwithiel didn't flood.
– Luci Isaacson, Leaf Litter Project

The teams are supervised by Cornwall Probation Trust. They made up of offenders who are ordered to do unpaid work in the courts. There hasn't been any negative reaction from the public.

The scheme's proved such a success it's now being adopted by other areas in the UK prone to flooding.

You can watch our Cornwall Correspondent, Steve Hardy's report below: