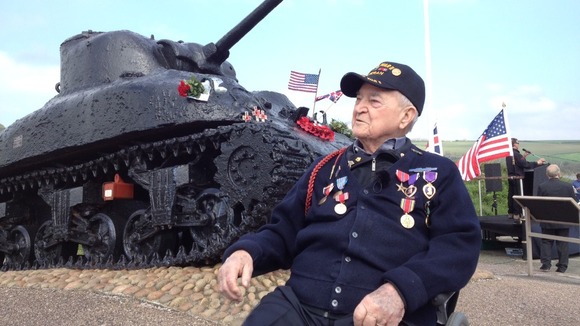 Hundreds of people gathered at Slapton Sands in South Devon today to mark the 70th anniversary of Exercise Tiger, a dress rehearsal for the D-Day landings, which went tragically wrong.
Guest of honour was Sergeant Edward Sobczyk who served in the American Fourth Infantry and survived the disaster.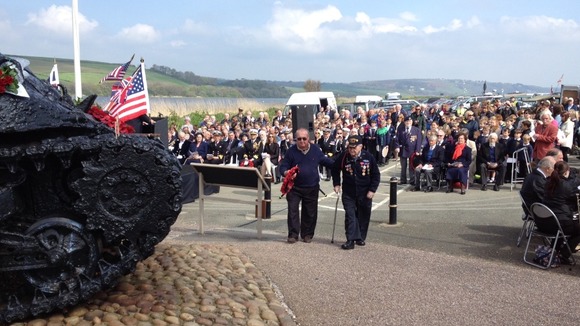 On 28th April 1944, eight landing ships laden with thousands of American troops set off from Lyme Bay on a course for Slapton Sands, which had been identified as having similar terrain to Utah beach, to practice the Normandy Landings.
They were caught unawares by two German E-boats which opened fire with torpedoes. Two vessels were sunk and others were damaged. 749 lives were lost.
A Sherman tank, raised from the seabed, serves as a reminder of what happened.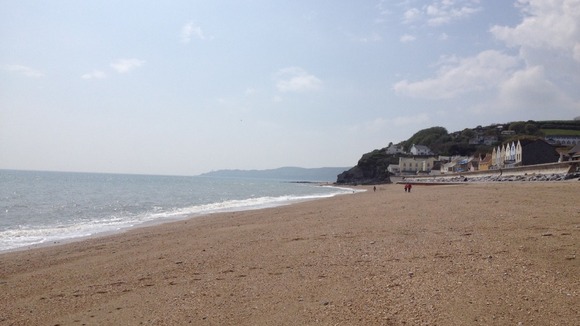 Edward Sobczyk, who was thrown into the sea, went to the aid of his fellow servicemen and saved over 100 lives in two and a half hours, dragging them to boats and helping to haul them aboard.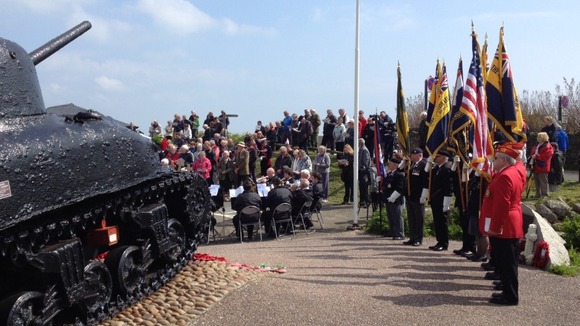 Mr Sobczyk was awarded the Silver Star, America's second highest award for bravery, which was them stripped by General Eisenhower, as the American government attempted to cover up what had gone wrong. Eisenhower told him personally that if he ever mentioned it he would be court-martialled. He has never received his medal.
At the time I was kind of disgusted with him and the army and everything but we still had a job to do and we went ahead with it. As a matter of fact, when he ran for President I voted for him!
– EDWARD SOBCZYK, Exercise Tiger veteran

You can watch Bob Cruwys' report on today's commemorations below. It contains archive courtesy of Dartmouth Museum.