Devon and Somerset Fire & Rescue Service has come to the rescue of a three-year-old boy who got a toilet training seat stuck on his head.
One crew was called out to Richards Close in Exmouth this morning and released the child by cutting through the plastic seat with snippers.
The firefighters said the little boy, who had managed to ram the loo seat down past his ears, was a bit "perturbed" when they got there but was fine as soon as it was removed.
A young man from Somerset is setting out on a round the world tour on a unicycle. He thinks it could take him two years to complete
Read the full story ›
Advertisement
A young man from Somerset will head off on an extraordinary challenge tomorrow.
Ed Pratt aims to ride round the world on a unicycle - something that's never been done before.
He's raising money for the School in a Bag charity which provides equipment for vulnerable children around the world. It could take two years to complete.
Ed says: "It's very do-able. You just get up, you cycle, you sleep and you just repeat that day after day. It's just doing it day after day is definitely going to be tough but I reckon I'll get into it and it'll work."
Jack Nowell of Exeter Chiefs has retained his place in the England team to play Scotland on Saturday. It'll be his seventh international cap.
An ancient Egyptian statue, that was nearly thrown away in a house clearance, goes under the hammer at an auction in Cornwall today.
The bronze bust of a cat, thought to date from the 26th dynasty is expected to reach more than £10,000 when it goes on sale in Penzance this morning.
Olympic diver Tom Daley is serving up a sweet treat for his fans as he is immortalised in batter for Pancake Day.
In a video, posted by Team GB, the athlete's face is piped on to a pan before more and more is added to create the 20-year-old's signature grin.
The flipping brilliant video has been retweeted and favourited by hundreds of fans on Twitter, including the subject of the art work himself.
Advertisement
A new star of rugby was born at the weekend - and he's only six years old .
Harry Westlake, from Plymouth was the England mascot for the Six Nations tie against Italy.
He won the hearts of millions with the passionate way he belted out the National Anthem.
We asked him for an encore - and he duly obliged.
With Valentine's Day approaching many may be anxious about the best way to tell their loved ones how they feel.
Exeter University has stepped in with an unusual masterclass which may help people out.
We sent our reporter along to learn the art of writing a good love letter. Click below to see how he got on.
A single mum who was left an anonymous note with a fiver by a stranger on a train has been able to thank her benefactor in person.
Read the full story ›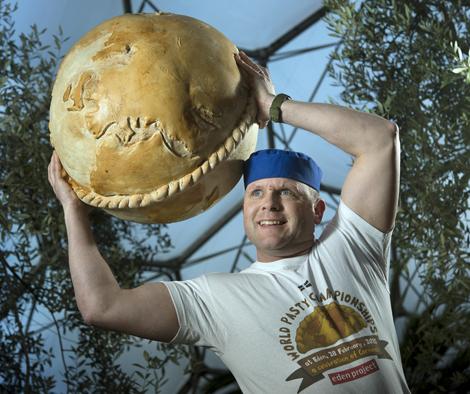 The head chef at the Eden Project in Cornwall has cooked up a novel way to mark the beginning of the World Pasty Championships - by creating an enormous Cornish pasty in the shape of the earth.
Tony Trenerry spent more than eight hours slaving over the colossal snack. It's 70cm in diameter, and needed an extra large oven.
He said it was the toughest, and heaviest, baking challenge of his career.
He said: "I was inspired by the amazing collection of competitive pasties at last year's World Pasty Championships and wanted to do my bit to inspire entrants to this year's competition.
"Word about the competition is spreading and, as well as local bakers, we have had interest from around the world, including enquiries from the US and Canada."
I was inspired by the amazing collection of competitive pasties at last year's World Pasty Championships and wanted to do my bit to inspire entrants to this year's competition.
– Tony Trenerry, Eden Project Head Chef
Load more updates