Watch a video of Landewednack Primary School in Cornwall transformed to a winter wonderland.
It has that eerie quiet of snow before the first person sets foot on it.... let alone a whole class!
Pupils from Landewednack primary school on the Lizard have had a day to remember after snow fell overnight.
The winter wonderland came courtesy of Twitter's @thetwofairies, who go around the country carrying out random acts of kindness. In this case, snow is very unlikely to fall near the school, which is at the most southerly tip of the UK and the air is too salty.
See the children's reaction to their snow surprise:
Advertisement
Children arriving at Landewednack primary in Cornwall had the surprise of their lives today - snow had fallen overnight transforming the Victorian building into the perfect Christmas card.
The magical transformation is the work of a Twitter group @thetwofairies who specialise in random acts of kindness. You can see their mark on the side of the school.
By the wonders of modern technology, sorry, the wave of a wand, it was actually snowing as the pupils arrived.
It's a big surprise. Our school is the most southerly in the country and the air is very salty so we never get snow. Some of the younger children have never seen snow but this is the real thing - you can even throw snow balls.

The children will come back from half term ready to start their winter project. Short of a trip to the North Pole this is the next best thing.
– Louise Jones, Head teacher, Landewednack CP School
Two fairies who have taken to spreading their magic across the country have turned their attention to Landewednack CP School, the southernmost school in Britain where it never snows - except today.
The sea, the hills; Cornwall, you're enchanting! But no time to surf - your wishes need granting! #FollowTheFairies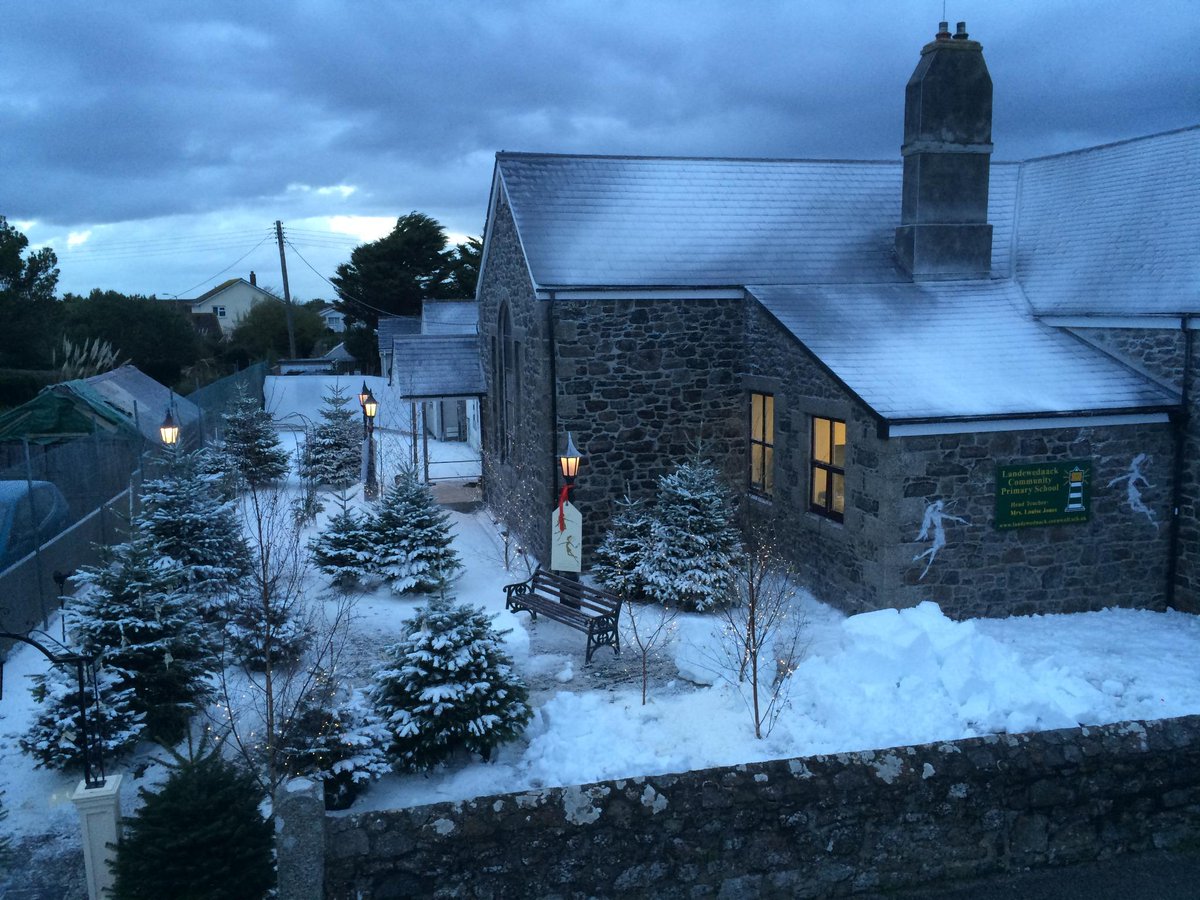 Eagle-eyed cameraman Matt Mulcrone spotted a shark-like fish in the background of a shot while interviewing a diver by the breakwater in Brixham.
He thought it was a dogfish. The diver, Ian Russell from Bristol, followed it and was able to pick it up. He identified it as a rare blue shark and told ITV News West Country he was thrilled as he had never seen anything like it in 12 years of diving off the South Devon coast.
He immediately returned it to the water and encouraged it to swim away.
More than 120 pub mirrors and glass panes have been sold for £20,000 at auction in Dorchester.
Many were used as props in films and TV programmes but they were put on sale as old-fashioned pubs are no longer popular for dramas.
The auction was held by Duke's Auctioneers, which says there was a lot of interest in the items, with plenty of new buyers coming forward.
It says the total raised "exceeded expectations".
Advertisement
More than 120 pub mirrors, glass panes and other fittings are going up for auction in Dorchester today. Have a sneak peek at some of these unusual artefacts:
The Hurst family downsized their house and deferred their eldest son's school entry to embark on an epic drive across the UK and Europe.
Read the full story ›
More than 120 pub mirrors, glass panes and other fittings are going up for auction in Dorchester this week (Tuesday).
They come from a prop hire company and some may even have appeared on television. They're being sold as there's no demand for pub sets these days. Programme-makers also prefer perspex to glass for safety reasons and try to avoid brand names.
As the clocks go back an hour tonight a landlady in Cornwall will be spending 6 hours resetting her 281 clocks!
Anne and Edward Connolly have been collecting clocks for the last three decades. Their vast collection now swamps every shelf, nook, window and table at the Earl of St Vincent in Egloshayle.
It takes a good six hours to do them all. They all have different characters, mechanisms and temperaments, so it's quite a job.

I don't have a particular favourite, I like them all, and even though they take a lot of work, winding and dusting, they give our customers a great deal of pleasure.

Some need to be wound daily, some half-weekly, some weekly. But because of their age, they are never all spot-on.

Even though I put them all right in the morning, a few will always run too slow or too fast.
– Anne Connolly, Landlady
Load more updates