A family of beavers that made their home along the River Otter in Devon are being allowed to stay - for the next five years at least.
As many as ten of the animals have set up home along the river. They haven't lived freely in our countryside for centuries but Natural England says they can remain while conservationists study their impact on the environment.
Devon Wildlife Trust comes with eyes open to this project. We know what it means because we have studied these animals for three years. I'm sitting on a tree that has been felled by these animals so they can bring change to our landscape, but that doesn't mean destruction. That means opportunities for other kinds of wildlife.
– Steve Hussey, Devon Wildlife Trust
A decision is due on the fate of wild beavers living on the River Otter in Devon.
Conservationists think at least three now live near Ottery St Mary. Devon Wildlife Trust hopes to spend five years studying the impact of the beavers on the local environment. It has launched an appeal to fund the project.
Advertisement
She may not look like she's had a near-death experience but Aunt Bessie is "Staying Alive" thanks to that song by the Bee Gees.
Read the full story ›
The RSPB is asking people to take part in its annual Big Garden Birdwatch survey this weekend.
The charity wants us to go outside for an hour and record the wildlife we see.
Last year in the West Country, House Sparrows and Blue Tits were the most common birds spotted.
Each year around 600,000 people take part. This is the survey's 36th year.
Six young seals being looked after at the Cornish Seal Sanctuary are big enough and well enough to be returned to the sea. We went to watch
Read the full story ›
Advertisement
Being washed can be very stressful for barn owls. Even though Somerset charity Secret World Wildlife Rescue did not get all the soot out of Sweep, they will have to wait a few days before trying again.
A baboon at Paignton Zoo whose heart had stopped was brought back to life after the vet giving her CPR used the song 'Staying Alive' to count compressions.
The ailing monkey, named Aunt Bessie, collapsed twice in one afternoon. After the second time her heart stopped her chances of survival were slim, but she began to recover after the zoo's vet played the classic Bee Gees hit while trying to revive her.
This, combined with adrenaline and corticosteroids helped the four-year-old monkey turn a corner.
Aunt Bessie is now fully recovered and back with her troop at the zoo.
A baboon's heart rate is similar to that of a young human so the British Heart Foundation's TV commercial used the song because it's a good prompt for the rate of cardiac massage ... You start to wonder whether anything you do will make a difference, but you have to keep trying when you believe there is still a chance.
– Ghislaine Sayers, Head Vet at Paignton Zoo
The first seal pups of the season will be returned to the wild today in West Cornwall.
The Cornwall Seal Sanctuary will release six pups at Gwithian.
They'd been washed up in winter storms.
Secret World Animal Rescue based at East Huntspill in Somerset have taken in a barn owl that was rescued from a chimney.
It is clearly in good hands but we hope this doesn't happen very often.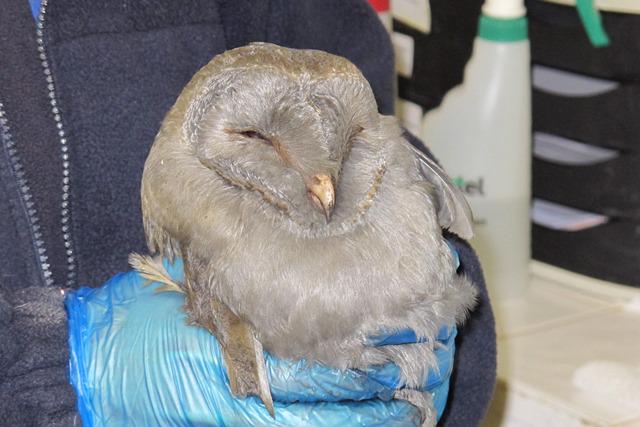 Load more updates