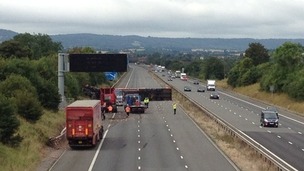 Motorists in Somerset faced massive delays for much of the day after the M5 was closed when two lorries crashed.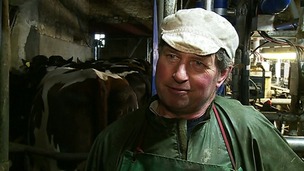 One of Dorset's leading farmers says he's increasingly frustrated with the Government's decision not to extend badger culling trials.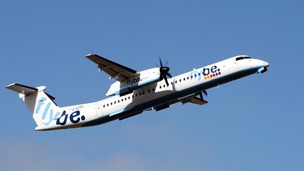 Flybe has announced a major expansion with a 5 year deal at London City Airport including flights between London and Exeter from October
Live updates
Summer getaway begins
West Country (E)
There are 40 miles of stop-start queues on the M5 southbound, between junctions 14 (Thornbury) and 23 (Bridgwater North). Travel time between the two is 120 minutes. There are no accidents; congestion is due to the sheer volume of holiday traffic.
Summer getaway begins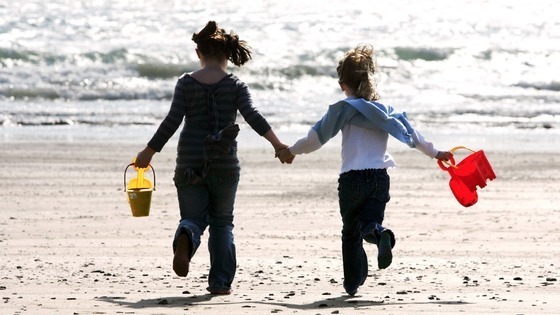 It's promising to be one of the busiest weekends of the year on the region's roads, as the school summer holidays get underway. Industry leaders say they've seen a drop in bookings over the last couple of months compared to previous years but they're hoping sunny summer weather will help boost bookings.
Advertisement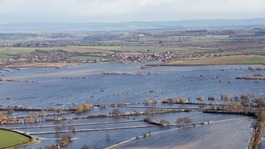 The tourism industry in Somerset is still feeling the effects of the flooding in the
Read the full story
A huge under sea cable is being laid to give the Isles of Scilly superfast broadband.
Engineers are using a ship moored off St Mary's to bring a 60 kilometre cable to the shore. It'll be connected to a high speed line that runs from Cornwall to Spain deep under the sea. It'll mean islanders have much faster internet access.
Somerset's tourism industry says its still feeling the effects of the winter floods.
Some businesses are reporting a 25% drop in trade compared to last year. They say images of the flooded Levels put people off when they were booking their summer break.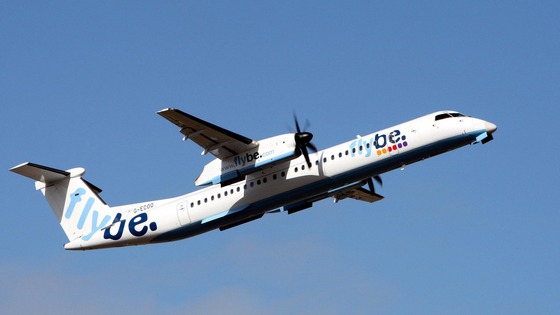 Exeter-based airline Flybe is to resume daily flights to Newcastle just months after the route was axed.The service will run from October - at the same time Flybe starts its new daily flights to London City Airport.
Advertisement
The cost of holidays during the summer break
There are calls for school holidays to be staggered to help cut the cost of a summer break and boost tourism in the West Country. Leading figures in the trade say a longer season would cut traffic jams while boosting visitor numbers.
Campaigners fear plans to turn a historic hotel in Perranporth into private homes will hit the local economy and push property prices even higher.
It reflects what's happening in coastal towns across Devon and Cornwall, with many new apartments being snapped-up as second homes.
The developers, though, say there's no demand for keeping it as a hotel. Steve Hardy reports:
There are calls tonight for the Met Office to scale back the number of weather warnings it issues, after claims tourists stayed away at the weekend because of the threat of bad weather.
Most areas in the West Country enjoyed relatively good weather on Saturday, but a number of attractions said visitor numbers were down. Richard Lawrence reports.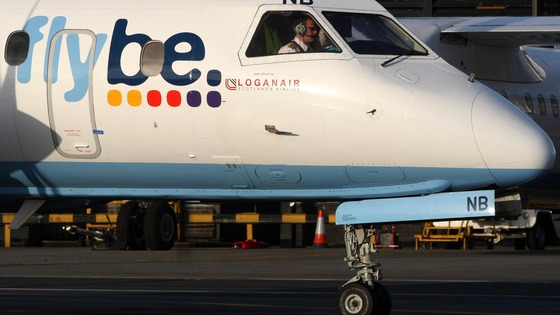 The technical arm of Exeter-based airline Flybe has been selected as the preferred bidder for a major contract to service RAF planes.
They will be responsible for conducting maintenance, repair and overhaul operations at the RAF Brize Norton Airbase in Oxfordshire. It comes after the company announced its first profits in four years.
Load more updates