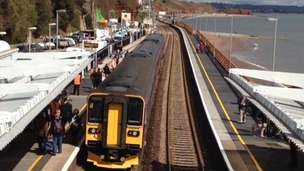 A selection of photographs taken by our reporters at Dawlish on the day the main line through Devon reopened.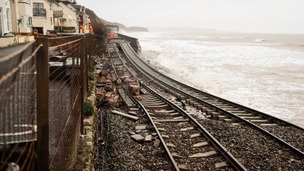 Businesses say that when news broke nationally of the rail line collapse at Dawlish it was as if a light switch went off on bookings.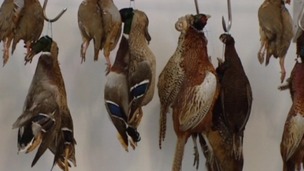 A food hall that was known as the Cornish "Harrods" has closed and could become a supermarket
Live updates
A dairy farm on the edge of Dartmoor is helping to improve our environment, and saving a staggering £30,000 a year on its water bill.
Natural springs on its land are providing drinking water for the cows, and powering the scheme as well. John Andrews reports.
Plymouth misses out on flood support fund
Cllr Tudor Evans, Leader of Plymouth City Council, tells ITV West Country that he believes Plymouth's businesses deserve a share of the Government's flood support fund.
Read more: Plymouth businesses miss out on Govt's flood support fund
Advertisement
Plymouth misses out on flood support fund
Plymouth will not be able to apply for financial help for businesses damaged in the storms. The city did not make the list of areas that would get government support as part of David Cameron's £10 million flood support fund.
Plymouth City Council leader Tudor Evans is calling on local MPs to demand money for local businesses.
Dawlish track rebuild put back by at least a week
Following the latest severe storms last weekend, Network Rail has updated its estimate of the time it will take to restore the railway at Dawlish.
It has now advised that the railway will be repaired by mid-April and that it will be working night and day with dedicated resources to accelerate the programme.
Last weekend's storm caused extensive, further damage, increasing the scope of the repairs. However, the first defences installed reduced the potential impact and helped prevent further damage to the houses.
We are all conscious of the importance of this railway to the South West, its economy and the people of Dawlish. They have been tremendous in supporting our team and understanding of the challenges we face. We are confident that we will have the railway back by mid-April and if we can we will beat that date."
– Patrick Hallgate, Route Managing Director, Network Rail Western
Protestors evicted from Barnstaple pub
Main rail line through Dawlish reopens
Advertisement
Main rail line through Dawlish reopens
First Great Western say train services between Plymouth and Cornwall should resume tomorrow.
All mainline journeys were cancelled today due to flooding. It's hoped trains will begin running between Plymouth and St Erth from 10:30am on Sunday.
Rail replacement buses will be operating between St Erth and Penzance.
Main rail line through Dawlish reopens
The Transport Secretary says repair work to the storm damaged train line in Dawlish will be completed by March 18th.
During Prime Minister's Questions this morning, Patrick McLoughlin also said fares around the gap in the line would be discounted and extra replacement buses would be provided.
Main rail line through Dawlish reopens
Plymouth is determined that it is "open for business" in the face of huge transport problems following the flooding and damage to the railway line at Dawlish.
This morning the Prime Minister visited the repair work and promised to do everything possible to help. But Tudor Evans, the Labour leader of Plymouth City Council is calling on Mr Cameron to 'walk the walk' and not just 'talk the talk'.
He made the comment during an interview with our presenter Ian Axton in Plymouth City Centre earlier today.
Main rail line through Dawlish reopens
The dangers of running a track so close to the coast at Dawlish have always been recognised - even before the rail link was built. But what are the alternatives?
Network Rail says it is now actively researching a long term solution and could take the line the line further inland. John Andrews reports
Load more updates