Pupils from Landewednack primary school on the Lizard have had a day to remember after snow fell overnight.
The winter wonderland came courtesy of Twitter's @thetwofairies, who go around the country carrying out random acts of kindness. In this case, snow is very unlikely to fall near the school, which is at the most southerly tip of the UK and the air is too salty.
See the children's reaction to their snow surprise:
Children arriving at Landewednack primary in Cornwall had the surprise of their lives today - snow had fallen overnight transforming the Victorian building into the perfect Christmas card.
The magical transformation is the work of a Twitter group @thetwofairies who specialise in random acts of kindness. You can see their mark on the side of the school.
By the wonders of modern technology, sorry, the wave of a wand, it was actually snowing as the pupils arrived.
It's a big surprise. Our school is the most southerly in the country and the air is very salty so we never get snow. Some of the younger children have never seen snow but this is the real thing - you can even throw snow balls.

The children will come back from half term ready to start their winter project. Short of a trip to the North Pole this is the next best thing.
– Louise Jones, Head teacher, Landewednack CP School
Advertisement
Two fairies who have taken to spreading their magic across the country have turned their attention to Landewednack CP School, the southernmost school in Britain where it never snows - except today.
The sea, the hills; Cornwall, you're enchanting! But no time to surf - your wishes need granting! #FollowTheFairies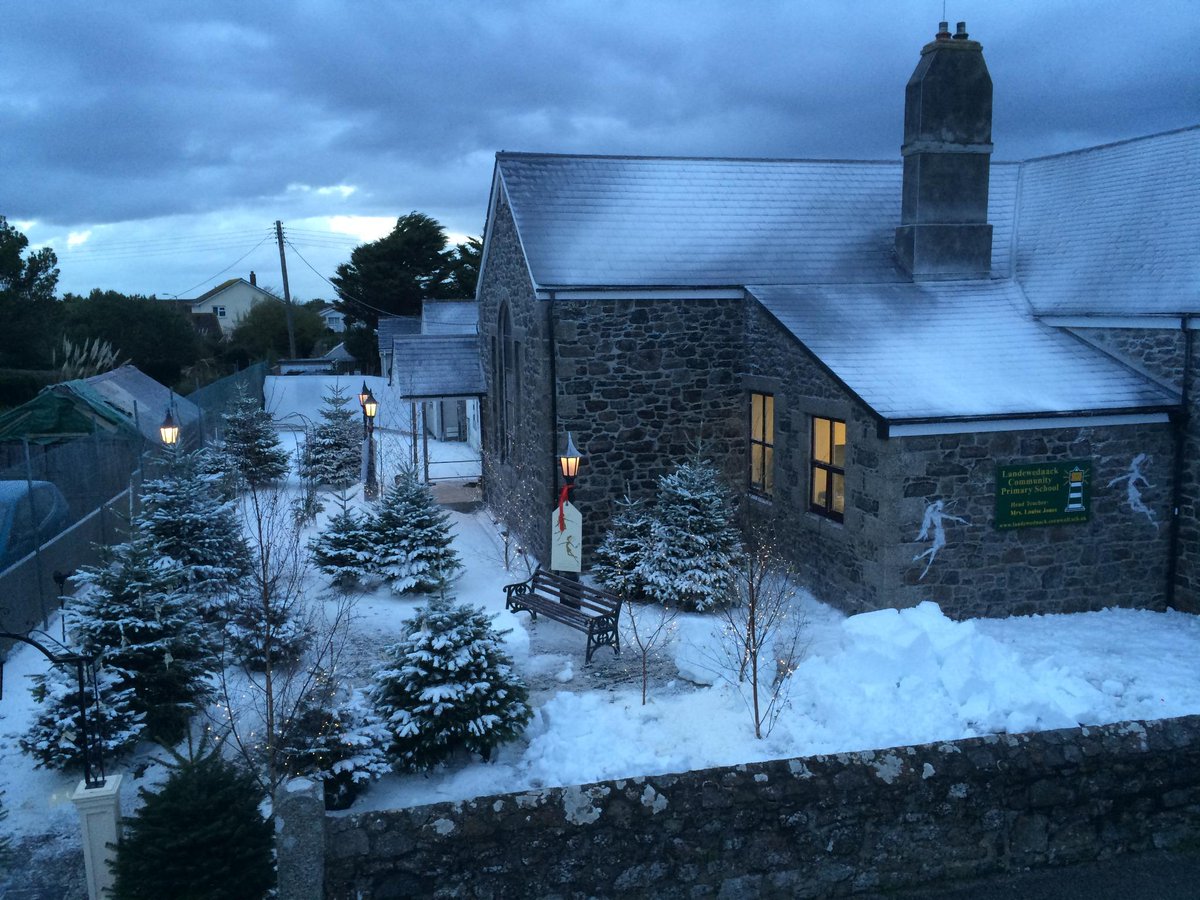 Staff at Plymouth University have given a vote of no confidence in their vice-chancellor, Wendy Purcell.
Members of the University and College Union say the recent problems at the university have undermined morale and risked long-term damage to the institution.
Wendy Purcell who is currently on paid leave, was suspended for three months over allegations of overspending and bullying colleagues.
The NSPCC and their friend "Buddy" have been visiting a school in Cornwall to give them some tips about dealing with abuse
Read the full story ›
A man who admitted indecently assaulting boys at a private school in Devon has appeared in court in Birmingham accused of 27 further sexual offences involving young boys in Kenya.
Simon Harris has already pleaded guilty to sex offences committed against three pupils, all aged between 13 and 14, while he was employed at Shebbear College in the 1980s.
Today the court was told how he "preyed" on Kenyan street children as young as six years old. Harris denies the charges.
Advertisement
An average of two children in every primary school classroom has suffered from abuse or neglect, according to the NSPCC.
In response, the charity wants to take a touring roadshow into every school, teaching younger children how they can stay safe.
A school is counting the cost of flash floods in Exeter. Ladysmith Infant School was forced to close today after three classrooms were damaged by running water.
One of the teachers, Louise Moretta, has been helping with the clean-up.
Wendy Purcell, Plymouth University's vice-chancellor, has stepped up her legal battle to win her job back, with the case against her understood to include a complaint about her management style.
Professor Purcell is now being represented by a law firm that specialises in discrimination claims. She was suspended three months ago, but has since had her status changed to paid leave. Neither the university nor Professor Purcell has ever disclosed the charges against her.
A 15-year-old girl was left "humiliated" after teachers showed a photo of her in a bikini as part of an assembly about online safety.
Read the full story ›
Load more updates