Ofsted has published a damning report into the quality of children's services in Somerset.
The education watchdog says the county council is "not providing good enough support for its most vulnerable young people and families".
One third of the 39 places inspected were seen as less than good with six of them judged inadequate. Somerset County Council says it will make urgent improvements.
We looked at provision for 13,500 children - that's the number of children whose lives are touched by those children's centres and both those centres were inadequate. So really quite shocking statistics in terms of the number of children who are not getting what they need ".
– Bradley Simmons, Ofsted Regional Director
A village hall on the Somerset Levels has reopened nine months after being flooded.
Moorland and District Village Hall has been officially reopened at a ceremony this evening. There has been a portable building in its place for nine months. 120 people from the local community were invited to the event.
Advertisement
A school in Tavistock has been judged 'inadequate' and placed in special measures.
Ofsted found pupils at St Peters C of E Junior School do not have a secure knowledge of basic English and maths; teaching is "ineffective"; and the behaviour of some children is disruptive.
The vice-chancellor of Plymouth University is returning to work - following an investigation into her conduct.
Professor Wendy Purcell was put on leave in July, amid unspecified allegations which are understood to include a complaint about her management style.
Today the university announced the inquiry process has ended, and she will return to work in a new role to build the university's reputation.
Cornwall Council has agreed to delay cutting a number of school crossing patrols.
The council was hoping to save £80,000, but it will carry out a risk assessment first before making a final decision.
It has also reached a deal with the RNLI to maintain the current level of lifeguard cover on 57 beaches, despite reducing its contribution to the charity from £1.4million to £950,000.
Watch a video of Landewednack Primary School in Cornwall transformed to a winter wonderland.
It has that eerie quiet of snow before the first person sets foot on it.... let alone a whole class!
Advertisement
Pupils from Landewednack primary school on the Lizard have had a day to remember after snow fell overnight.
The winter wonderland came courtesy of Twitter's @thetwofairies, who go around the country carrying out random acts of kindness. In this case, snow is very unlikely to fall near the school, which is at the most southerly tip of the UK and the air is too salty.
See the children's reaction to their snow surprise:
Children arriving at Landewednack primary in Cornwall had the surprise of their lives today - snow had fallen overnight transforming the Victorian building into the perfect Christmas card.
The magical transformation is the work of a Twitter group @thetwofairies who specialise in random acts of kindness. You can see their mark on the side of the school.
By the wonders of modern technology, sorry, the wave of a wand, it was actually snowing as the pupils arrived.
It's a big surprise. Our school is the most southerly in the country and the air is very salty so we never get snow. Some of the younger children have never seen snow but this is the real thing - you can even throw snow balls.

The children will come back from half term ready to start their winter project. Short of a trip to the North Pole this is the next best thing.
– Louise Jones, Head teacher, Landewednack CP School
Two fairies who have taken to spreading their magic across the country have turned their attention to Landewednack CP School, the southernmost school in Britain where it never snows - except today.
The sea, the hills; Cornwall, you're enchanting! But no time to surf - your wishes need granting! #FollowTheFairies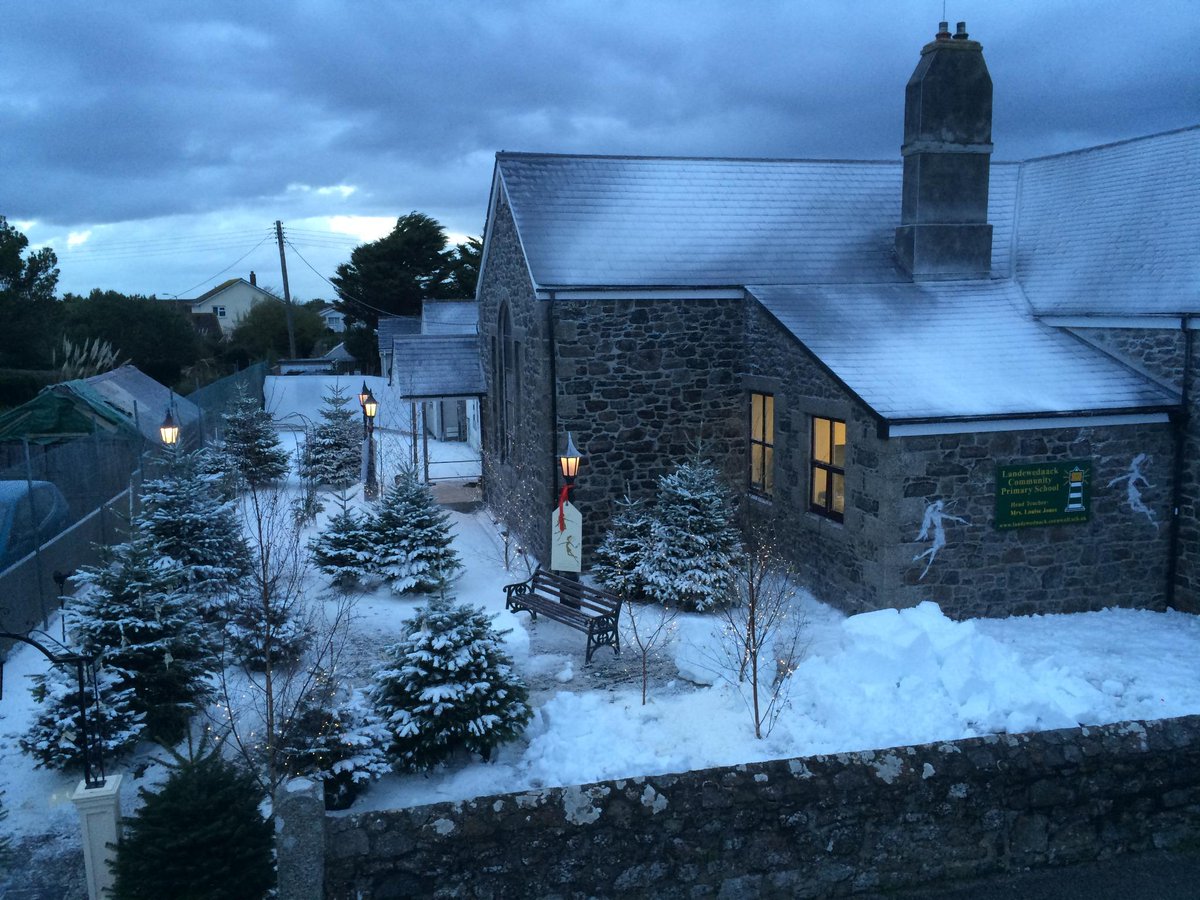 Staff at Plymouth University have given a vote of no confidence in their vice-chancellor, Wendy Purcell.
Members of the University and College Union say the recent problems at the university have undermined morale and risked long-term damage to the institution.
Wendy Purcell who is currently on paid leave, was suspended for three months over allegations of overspending and bullying colleagues.
Load more updates