Damien Hirst Statue Ilfracombe
Artist Damien Hirst wants to erect a 65 foot statue of a pregnant woman holding a sword in Ilfracombe.
Watch Seth Conway's report on the possible 20 metre high sculpture for Ilfracombe here:
North Devon Council has confirmed it has received a planning application for a sculpture by local artist Damien Hirst, to be erected in Ilfracombe.
The 20 metre statue would be located in the pier area of the harbour.
Local people have until July 26th to comment on the application.
This application will be considered as part of our usual planning process.

There will be opportunities for members of the public to comment on the application during the public consultation period.

They can do this either online, by email or by post, before 26 July 2012
– Councillor Mike Edmunds, Executive Member for Strategic Planning and Development, Ilfracombe
Advertisement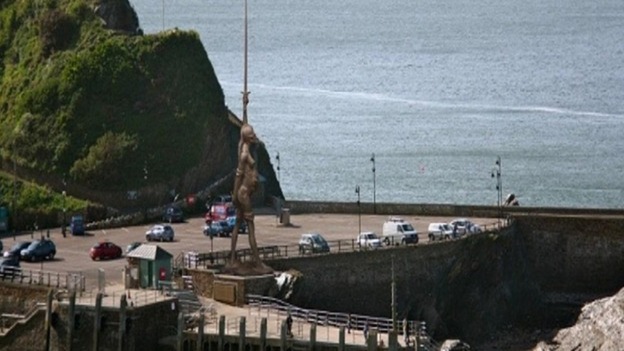 A 65 ft statue of a pregnant woman holding a sword could be built in a Devon town.
The sculpture is designed by artist Damien Hirst who wants to erect it in a car park at Ilfracombe harbour.
Hirst has told councillors they can have the statue on loan for 20 years if they grant him planning permission.
Back to top